Supershorts set Andrew Alderson a task: cover last week's MasterChef like it was a sporting event.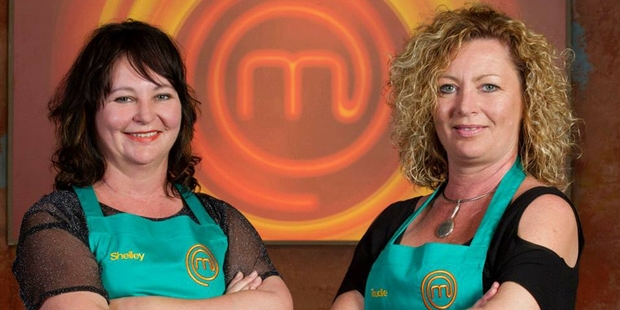 Sisters Trudie and Shelley were sent off for culinary fouls in this week's MasterChef test between the five remaining sides.
It was a game of two shows. The duos were split, but by the time Trudie had been hauled off to the bench after delivering substandard service from the base of the stove with her prawn, asparagus and pea risotto, it was too late for Shelley to whisk them back into the game.
The MasterRefs - Josh Emett, Simon Gault and Ray McVinnie - were given licence to officiate at their acerbic best. Trudie was hardly holding a flush hand when she took her dish into contact. You could see a subtle but collective intake of breath - fans would've appreciated a super-slow-mo - before the refs penalised her at the breakdown in ingredients.
Things looked grim the moment Trudie packed down with the mystery box at the first set piece: "Oh. My. God. I don't do risottos. I've made one in my life." Uh-oh.
The tension was upped throughout; phases were strung together beautifully.
"There's nothing worse than a dry risotto," said Emett and, in a further touch of foreshadowing, "there's a couple of ticking bombs out there."
Gault and McVinnie chipped in during tasting. "This one has an ice cream sundae look to it," noted McVinnie as a lonely prawn held sentry protecting a mound of dry rice.
As Trudie retreated into the contestants' territory, the judges summoned more caustic ammunition.
"It looks like she's trying to hide something," McVinnie continued, perturbed by a couple of rogue parmesan wafers loitering in the rice. "Perhaps she might be in trouble here," Gault added, before firming up his views upon consumption. "She's in trouble, guys."
Trudie scored 4 out of 10, meaning Shelley faced the culinary equivalent of Seve Ballesteros' recovery shot from the Royal Lytham & St Annes carpark in 1979 to keep them in the contest.
Her white chocolate lemon mousse with a raspberry sauce dessert wasn't up to par. Well, it might've been, according to judge Simon Gault, if there had been more raspberries.
"Sell it to me," Gault said. "It looks like you could just dig in and eat it," said Shelley. "It definitely looks like that," added Emett cryptically, before bagging the presentation for a lack of finesse. It almost looked as messy as the red cabbage coleslaw design on McVinnie's tie.
"It wasn't meant to be perfect, it's meant to be rustic," Shelley confided during the post-match interview.
There was no reprieve; they missed the cut. But we already knew that. The foreboding background music had intervened - a sure sign someone is toast.
This was, in honesty, far from a perfect episode.
There were too many breaks in play and resets where the audience had the actions of the previous segment repeated ad nauseam.
Karena's "fake it until you make it" policy regarding a beetroot-flavoured risotto might need a session in front of the tactical whiteboard.
It was described by Emett as having a "marmite or vegemite" flavour. McVinnie didn't miss either: "It's crude, too stiff... the only thing good is that she hasn't overcooked the rice."
Tanisha and Verena look the favourites from here after setting a platform and biting off a large chunk of territory before the teams head to Bali for next week's round.