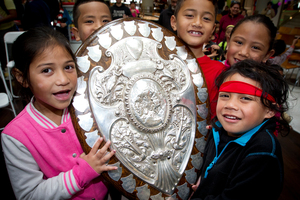 It has been a busy month for a 111-year-old slab of oak like me.
The last time I had this much action was in 1994 when former Canterbury lock Chris England stripped me down, applied a dose of physiotherapy to my centrepiece, fused a few splinters back into place and gave me a decent polish. However, I felt rejuvenated then. Now I'm just exhausted.
Crikey, for starters I was mugged by some Otago players in a Queenstown cafe and marched to the Remarkables to cover the nether regions of Marshall Suckling while other players blasted me with snowballs. Charming ... and after all I've done to motivate these blokes over the years. Still, I was getting sick of those Hamilton malls.
Next thing you know I was tucked under the arm of a Hawkes Bay player and heading to bed. It was a relief to head north to new digs.
This week I've needed earplugs whether it's travelling through a funnel of people in King St, Pukekohe, or being plonked down alone in front of the entire roll of Papakura Central School.
They promptly launched into a cacophony of cheering. I'm not sure the school hall had seen the likes of that before but hey, it's the sort of street-cred I generate. Those kids were rather kind, too, suggesting I might only be 67 or 68 years old. I'm still on the hunt for the rascal who suggested I was 128.
Righto, that's enough from you, Shield.
You've certainly had a whistle-stop tour, up there with the likes of 1950, 1974 and 1996. The Counties Manukau reign will begin on Sunday against Taranaki, the first time the union has defended the trophy in its 58-year history.
It has been a frantic three weeks, starting August 23 when Waikato conceded the Log o' Wood to Otago.
"Up until the Thursday we had it in the community," Waikato manager Paul Galletta said "We wanted to share that with as many people as possible. The boys last saw it at the captain's run."
Apparently Shield, you got around, on a rotational nightly roster among the players.
Otago waited 56 years to hold you for eight days, but it was a scenic journey including being subjected to Suckling's strategic positioning. Our deepest sympathies ...
"We were just having a bit of lunch at Lone Star," Suckling said. "People were coming up and touching it and taking photos, when we were approached by The Helicopter Line.
"We'd just been out all day and it was a chance to do something different, something fun and put a bit of the region [so to speak] into a picture with the Shield.
"We didn't want to get them over-pumped, that's always a risk with over-exposure to something like this," said a straight-faced Otago manager Grant Hubbard.
Hawke's Bay nabbed you for six days after a one-point victory in Dunedin.
Magpies No8 and captain Mike Coman said you were hauled around. He couldn't keep up with your whereabouts.
"It was bloody hard to get your hands on [the Shield]. The only one person I know who slept with it on the first night was Richard Buckman."
Counties Manukau defend you for the first time on Sunday with fans queuing for tickets on Tuesday morning (it's believed to be a union first).
The Steelers also attempted some Otago-style photography. Maama Vaipulu was snapped using you as underpants on a west coast beach.
Man, you get around. On Wednesday you also visited two primary schools, where hundreds waited for a picture and a clasp of New Zealand history. Anton Crump and Andrew Alderson