Heroes' welcome at airport for first-time winners Counties Manukau will be followed today by three victory parades.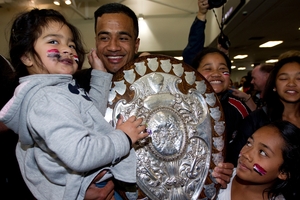 Counties Manukau fans turned out in force to get their taste of Ranfurly Shield fever - as the team eyes the first challenge to their new reign as holders.
The Steelers were mobbed by a large crowd after arriving at Auckland Airport yesterday, and hundreds more are expected at victory parades today. The union has not held the shield since its formation in 1955, and had endured 24 failed challenges before wresting it off Hawkes Bay on Saturday.
Coach and former All Black captain Tana Umaga, who never won the Ranfurly Shield in his own stellar playing career, said this week would be a balancing act.
Focus would be on the first challenge from Taranaki on Sunday, but today's parades and the achievement had to be enjoyed, too.
"You have to enjoy your wins, and this is a pretty historic win for us. And so our boys will enjoy it, and we'll get back to work when we need to get back to work.
"They've achieved something that's never been done in our history, and they should be proud of themselves. I'm proud of them ... they've got to bask in it."
Many fans brought their children to the airport yesterday to witness a Counties team bring home the shield.
Amid cheers of "we won" and the long, drawn-out cry of "Counties", old acquaintances hugged and back-slapped upon recognition.
"Isn't it weird what a little bit of wood can do," commented one.
Sam Makiha, 40, said he had endured watching many a failed shield challenge. There had not been the outpouring of emotion expected when the whistle sounded on Saturday. "It was pretty quiet at fulltime because it was just stunned mullets, we couldn't believe it had happened. No one had given us a chance ... it's the holy grail."
As the team filed out with captain Fritz Lee holding the Log o' Wood, players joined the crowd in holding up phones to record the homecoming. Students from Pukekohe High School performed a haka, before leading the rush to hug the players.
The Steelers will show off the shield today at celebration parades at Manukau City (10.30am), Papakura (12.30pm) and Pukekohe (3.30pm).
The team will defend it against Taranaki in Pukekohe on Sunday.