Change of rules makes rallying in NZ more affordable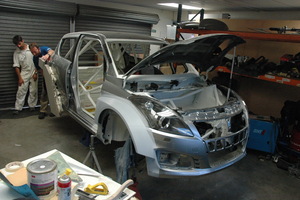 The opening round of this year's New Zealand Rally Championship will herald a few changes in the types of cars fans will see.
The governing body has altered the rules to encourage folk to get things out of the shed and save money, and the top drivers will be fighting it out in the new Super Rally class. This category allows teams to, in effect, build what they want. It may not be a class the FIA recognises, but it's a damn sight cheaper than trying to build a WRC S2000 car.
Former world-ranked number one female rally driver Emma Gilmour has decided to build a new car for this year's championship and is basing it on a Suzuki Swift.
The team at Gilmour Motors, under Glenn Macneall's guidance, is building the turbo-charged four-wheel-drive car. The new category is thought be the future of the sport in New Zealand.
Little more than six months ago the Swift Maxi was a stock-standard Swift Sport. Over the summer it has been stripped and completely re-engineered as a state-of-the art rally car in a small upstairs workshop at Gilmour Suzuki in Dunedin.
"It's been a bit of a stressful week but we're getting there," says Gilmour. "There's going to be many a long night between now and the beginning of the Otago Rally but we're hopeful we'll make the start. It's a whole new concept for us and we're doing something no one has tried before. The car is a purpose-built racecar and not a production car rebuilt to go rallying. I'm looking forward to getting in it and going racing. It should be exciting."
To the uninitiated it would appear building an entire new car from scratch would not make financial sense when you can get an FIA-approved S2000 car. However, as with all internationally governed motorsport classes, teams are told what they must buy, and only from authorised suppliers.
To put it mildly, that normally means someone is clipping the ticket heavily somewhere along the line.
"With the rule changes in New Zealand an opportunity has cropped up to do something different. It's been Glenn's idea, really, in that he realised an S2000 car is too expensive to build and run in this part of the world," said Gilmour.
"What we are doing is building a new type of rally car we think will supersede Group N cars at the head of rallying in this country, and become prominent in the Asia-Pacific region as well. These cars will be more affordable and more exciting than the current generation of cars and, we think, open up the sport to more manufacturers locally."
The 1.6-litre non-turbo has been replaced with a 1.8-litre job with a Garrett turbocharger and custom-made exhaust manifold, radiator and intercooler.
Gilmour's team have re-mounted the engine to sit north-south (ie, aligned with the front and rear) rather than the east-west (across the engine bay) configuration used for a normal Swift.
"Auckland-based engine specialist Edgell Automotive is preparing the engine. Otherwise, the project has been 100 per cent Dunedin-based, under the overall direction of Glenn," says Gilmour. "I'd also like to make special mention of Lindsay Tressler, Glen Turner, Mike Wilson, Craig Hewlett and Elliot Charles, all of whom have given hours of their time to this project over the past few months."
Gilmour is at pains to point out the opening round of the NZ Rally Championship will be more of a team shakedown and not to expect too much in the way of results.
"This is a totally new and very ambitious concept for rallying in New Zealand. We are approaching it as a three-year project, and it is going to take several events, along with some very targeted testing, to get it working exactly as it is meant to. For us, this season is all about developing the car to realise its full potential."
Defending champion Richard Mason will lead the pack containing a number of returnees, including Hayden Paddon and the rookies.
Two Australia-based teams - Matt van Tuninen (Subaru, Super Rally) and Stewart Reid (Ford, Historic Rally) - are over for the event.
Also eligible for overall Goldstar title contention are the seven in the BNT Historic Rally Challenge category headed by defending champion Marcus van Klink. He may, however, face stiff competition from Australian rally multi-champion Neal Bates who is in the country with his Toyota Celica.