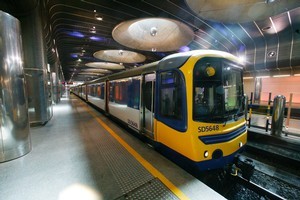 Auckland Transport is pitching for ownership of new electric trains rather than leasing them from KiwiRail.
Transport Minister Steven Joyce revealed the proposal after Herald questions about a leasing deal being negotiated in confidence.
The Cabinet decided two years ago that it would loan KiwiRail $500 million to buy 38 electric trains, with the company then leasing them to Auckland.
But Auckland Transport and members of Auckland Council now believe it would be better for the city to own them outright.
Auckland Transport staff have warned that extra public transport cash it gets from the Government could end up being spent on the leasing deal.
A report by the body said leasing would cost $45.6 million over three years, with a further $29.7 million in proposed track charges.
The Government is to increase Auckland public transport subsidies between 2012 to 2015 by $96 million.
That means just $19.7 million extra would be left of the increase, the report said.
In 2009, Mr Joyce blocked a regional fuel tax which was to pay for the trains on the basis that it unfairly burdened road users.
"The decision the Cabinet made was that KiwiRail would own the trains and they would lease the trains on to Auckland," he said to the Herald. "But none of that has been resolved. Auckland Transport has come to us saying they might like to own the trains and look at a model like Wellington."
Greater Wellington Regional Council owns its new electric trains, to which the Government is contributing 90 per cent of their $235 million cost.
Mr Joyce said Auckland was gaining more than Wellington from state coffers through a $600 million basic rail upgrade and the $500 million electrification of its network.
Sharon Hunter of Auckland Transport said her organisation was "happy" to own the new trains "as we understand regional ownership is the minister's preference".
Auckland Council transport committee chairman Mike Lee said it would "be totally untenable for Auckland to have to pay for these trains and not own them".
Mr Lee said the minister had halted the former Auckland Regional Transport Authority's tendering for the trains and transferred the process to KiwiRail, at a cost of a year's delay, on an understanding that "a Government rail agency would own and pay for those trains".
"After a couple of years have gone by, he's hoping everyone has forgotten, but he has backtracked on his original commitment," he said.
Mr Lee called the Government's proposed $95 million subsidy increase for public transport services "sugar-coating on a very expensive pill that Auckland ratepayers are being asked to swallow".
He said the subsidy increase should be used for extra public transport services as record numbers of Aucklanders switch to trains, buses and ferries.
Details are yet to emerge how Auckland could raise the train money.
One possibility is that the Government simply transfers the KiwiRail loan over to Auckland Transport.
TRACKING COSTS
$500m
track electrification and signals (Govt funding).
$500m
38 electric trains (Govt loan to KiwiRail).
$347m
expected spending on Auckland public transport 2009-2012.
$441m
expected spending on Auckland public transport 2012-2015.