A large, well-behaved crowd of around 20,000 has dressed up for today's New Zealand Trotting Cup in Christchurch.
Forecast rain has stayed away and racegoers are enjoying the carnival atmosphere in what is Canterbury's social highlight of the year.
X-Factor winner Jackie Thomas has been spotted enjoying the racing, while the New Zealand Army Band are performing to crowds behind the main stands.
The grass embankment where the main grandstand stood on the front straight until it was demolished after being earthquake-damaged is full of high-spirited punters.
People dressed as jockeys, Mexican banditos, Movember-inspired Edwardian gents, and models in full body-paint are rubbing shoulders on the lawn.
Ana Blissett, 28, and Hannah Templeton, 26, are enjoying their second Cup Day together in one of the many corporate tents.
They've even had small collects at the tote and hope their luck continues for the big race - the 150th running of the Christchurch Casino NZ Trotting Cup which jumps at 5.15pm.
"Everyone's in great spirits. It's just really nice to get all dressed up," Miss Templeton said.
"I hope we get invited back next year ... but there's still a few hours to go," Miss Blissett said, laughing.
Jackie Thomas has been impressed with the on-course action.
"I'm not very good at the gambling, but I'm keen to know more," she said.
"It's such a fun day out."
St John said one elderly male had to be rushed to hospital after collapsing, but otherwise paramedics have had a quiet day so far.
One police officer also remarked on how well-behaved the large crowd had been.
"They're all just having fun and being relatively sensible," he said.
New Zealand Cup and Show Week - Canterbury's spring festival of racing, agriculture, fashion and entertainment - runs until Saturday.
See a photo gallery of Cup Day fashion here: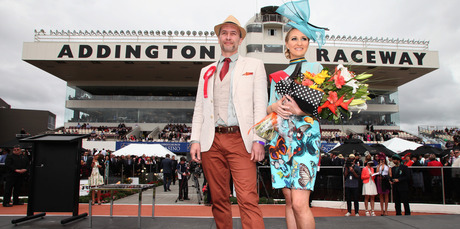 - APNZ