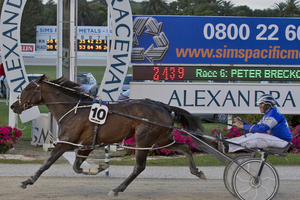 Champion trainer Mark Purdon has a shock for the punters who have plunged on his drive Alleluia in today's $180,000 Sires' Stakes Final.
Because he thinks $15 shot Isaiah is the best of his five chances in the group one sprint.
Purdon and training partner Natalie Rasmussen may numerically dominate the first major 3-year-old race of the season but with classy rivals Cyclone Prince (barrier one), Tiger Tara (five) and Bettor Offer (one on the second line) better drawn, Purdon knows his team faces a huge task.
That didn't stop punters making Alleluia one of the plunge horses of today after he was backed in from $11 to $5 soon after the markets opened.
However Purdon says that as good as Alleluia is, he rates Isaiah the best chance of his five.
"He has been there and done that and is quite tough," he says.
"Alleluia is very fast but he is still learning. I am not saying he can't win but I definitely think Isaiah is our best chance.
"In saying that, it is going to be a hard race to win with the other favourites drawn well."
Much will depend on the tactics behind Cyclone Prince early.
If driver Todd Mitchell is able to hold the lead and stay there, then Bettor Offer could get the perfect trial and be hard to beat.
But if Mitchell leads and then hands the pacemaking role to the enormously improved Tiger Tara, then Cyclone Prince will get a dream trip and use of the long Addington passing lane.
The risk with that is actually running past Tiger Tara, who has been incredibly brave this season and has held off Cyclone Prince, Isaiah and Arden Rooney in recent starts.
That suggests Tiger Tara may be the best each-way bet in the group one but if Cyclone Prince does stay in front, Bettor Offer comes right into play.
While the Sires' Stakes Final is the main focus of the day for some of his rival trainers, Purdon has his usual strong representation over the entire programme, including Fly Like An Eagle in the New Zealand Cup.
After his powerful Kaikoura Cup win on Monday last week he could start fourth favourite today but he has been well and truly thrashed by Christen Me and Terror To Love when he has met the glamour pair.
So Purdon suggests if Fly Like An Eagle can make another fast beginning and find the front, he won't be going to war with the favourites.
"He is racing really well and I think he will handle the 3200m better this year that last," said Purdon.
"But those other two have been too good for him so far, so if he was able to get the lead then trailing one of them would be the best option."
Purdon is hoping for a different sort of respect when Adore Me faces the biggest test of her career in the junior free-for-all but he realises he will have to earn it.
Last season's champion filly cost punters a fortune when galloping wildly from a stand last start and steps up in grade and back behind the mobile against big boys like Franco Nelson, Besotted, Pass Them By and Jarcullembra today.
"It is a big ask but her trials form before she galloped last start suggests she is up to it," says Purdon.
"Ideally, I'd like to slide forward and get the front but maybe she hasn't earned that respect in this grade yet.
"So if she can't do that it might be a chance to drive her in the field, which is something we haven't really done with her yet."
That suggests the $1.30 hot favouritism bestowed on Adore Me may be a tad false, with a few of her rivals today good enough to test her should she have to work too hard when still not at peak fitness.
With those concerns in mind, Purdon opts for Arden Rooney in race five and Didjamakem Bolt (R9) as his best chances today.
"Arden Rooney is right back to his best and is racing like a future open-class horse," he said.
"And Didjamakem Bolt will actually go better this week with a gap since his last race."