Trainer says Terror To Love is working brilliantly in preparation for trip across Tasman.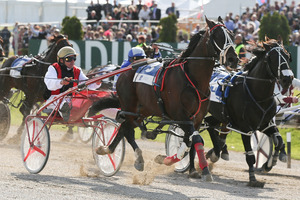 An expensive gamble in December could be about to pay a huge dividend for the connections of pacing hero Terror To Love.
Trainer Graham Court is adamant the two-time New Zealand Cup winner has never been better as he prepares to break his Australian duck.
Terror To Love returns to Sydney, where has been placed only once in three starts, for a A$100,000 race at Menangle on Saturday night, his final lead-up to the A$750,000 Miracle Mile eight days later.
A date change from its usual November spot to next week, forced on the host club because of amenities development at Menangle, means this season's Mile is short of superstar wattage.
This suits Court just fine as he knows a Miracle Mile win next to Terror To Love's name will greatly enhance his stud career, regardless of whom he beats.
Terror To Love flies into Sydney tomorrow with Court spouting scary words.
"He has never been better," he told the Herald.
"I think he is even better than when he won the Cup last November because his work has been unbelievable."
Even that confidence may not be enough for him to win Saturday's race as he has drawn terribly at barrier 10, a near-certain kiss of death in a Menangle mile, but this week is largely irrelevant because the Miracle Mile is all that matters.
"And the most important thing is I couldn't be happier with him and I think he vindicates our decision to miss some of those big summer races."
Court let Terror To Love bypass the Victoria and Hunter Cups over the summer even though he would have been favoured in both.
That decision has looked a masterstroke as the Miracle Mile nears, with so many glamour pacers to miss the super sprint as the rigours of the open-class season catch up with them.
Even tough nuts like Mah Sish and Caribbean Blaster failed to display their best at Menangle in another Mile prelude last Saturday and are now playing catch-up on Miracle Mile favourites like Terror To Love and Excel Stride.
"It is hard to go into every dog fight so we elected to miss some races he probably could have won. But this is a race we really wanted," said Court.
And that means at some stage in the next week Court will have a serious conversation with driver Ricky May.
May is New Zealand's third-most-successful driver of all time and has won a record-equalling six New Zealand Cups but Court would like to see him be more aggressive at Menangle.
"Menangle Mile racing is like American racing in that you can't pull back early, especially in this grade, because the leaders don't stop.
"So I am happy for Ricky to use him in the Mile and even try and lead.
"He has plenty of gate speed and is ready to break 1:50 for the mile so we might as well make them chase us, rather than the other way around."
That won't be possible this Saturday because of the draw and Terror To Love still meets old rivals Mah Sish and Caribbean Blaster, with the trio needing varying levels of performance to ensure they secure Miracle Mile invites.
Terror To Love rarely goes a bad race and would only need to not perform disgracefully to be invited, although even that might be forgiven from the draw.
Likewise, Mah Sish, who as the Hunter Cup winner and Interdominion runner-up, would need only a top-three finish on Saturday night to be a Mile starter.
Caribbean Blaster was disappointing, albeit after a hard trip, last Saturday and would need a big run this week to be guaranteed his shot at the Mile.
"It was hard with him being trapped three wide last week but he still should have gone better," said trainer Andy Gath.
"So he will only start on Saturday if I am happy with him, otherwise he might go to the paddock."
NSW harness racing bosses have indicated if the big-name pacers don't produce their best this week they would not be scared to cull them from the Mile, even suggesting the great race could have just six starters, instead of the usual eight.
The only two invitations confirmed so far are prelude winners Excel Stride and Mach Alert, both from the McCarthy stables.