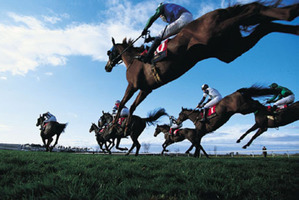 The scars Ohoka Punter has left on his rivals in two Derbys this season could win him a third classic at Addington tonight.
The exceptional 3-year-old pacer will start a warm favourite in the $150,000 Derby even after drawing barrier eight, with TAB bookies opening him at $1.50.
His task is made harder by the fast front line but trainer-driver Tony Herlihy may still be tempted to go forward early on Ohoka Punter, because he has already beaten up his two most favoured rivals tonight: Border Control (1) and Bit Of A Legend (4).
Bit Of A Legend has settled in front of Ohoka Punter in three races this season and been outstayed every time, while Border Control tried to park Ohoka Punter twice in the Woodlands Derby last month and came off second best by a long way.
The drivers of both horses will know they can't outstay Ohoka Punter so it would not surprise to see them, and his lesser favoured rivals, hand up to the favourite early.
If that was the case then he should join the modern-day greats as a three-time Derby winner, especially as Herlihy has been happy with the colt's work this week.
Bit Of A Legend's trainer Cran Dalgety admits getting in a war with the star of the crop is pointless.
"He is a great stayer so I think our best chance of beating him is to not get involved in the early fireworks," said Dalgety.
"He [Ohoka Punter] is going to need to be good to win from barrier eight so I am just hoping something else roughs him up."
With speedsters like Mista Mara and Classiesistar on the front line that is possible, but Ohoka Punter got a severe working over in the Woodlands Derby and it just seemed to make him more angry.
While Dalgety is hoping somebody else does the bully work in the Derby, he thinks he has the pacers to control two of tonight's other features.
He has favourites Regulus in the Welcomes Stakes and Christen Me in the Superstars Championship.
Regulus has looked very talented, albeit a touch immature, but gets the advantage in the draw over his only serious rival in Isaiah.
"He is working like a monster and has gate speed so he will be hard to beat," says Dalgety.
Christen Me is on trial for a Miracle Mile campaign so would want to win the Superstars well after being a costly failure last time when his sulky wheel got damaged.
"Pulling out of that race cost him some fitness but he is still close to his peak and unless he wins well the Miracle Mile is off for him."
The night's first Derby is for the trotters and sees stunning Aussie Blitzthemcalder up against a bunch of New Zealand record holders headed by Habibti and Royal Aspirations in what will be as big a test of manners as ability.