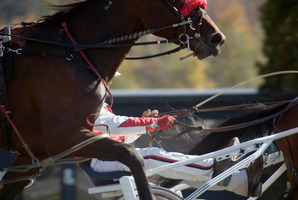 You have to hand it to the Aussies - they don't lack confidence.
Even after a couple of decades of our best trotters smashing the Australians on their home soil, two of Victoria's best trotters are still aiming at New Zealand riches this month.
There may be method in the madness of at least one trainer who has been here, done that in Andy Gath.
The Victorian is one of the few Australian trotting trainers to have tasted group one success in New Zealand, having won a Rowe Cup with champion mare La Coocaracha in 2002. Now Gath is eyeing a return with Elegant Image for this month's Rowe Cup carnival, even though he knows the 5-year-old isn't in that great mare's class.
A keen form student, Gath realises that with I Can Doosit out until next year, Stig suffering soreness issues and Vulcan heading to Sweden, our open-class trotting ranks are vulnerable.
Add to that, Dr Hook being sidelined for the rest of the season and The Fiery Ginga staying on in Victoria, at least temporarily, and Alexandra Park looks enticing to Gath.
Elegant Image is last season's Breeders Crown winner and was second best to Vulcan in the Great Southern Star two weeks ago, suggesting he deserves a ticket across the Tasman. "It is always hard to beat the Kiwis at home but with a few of them sidelined I think it is worth a shot," says Gath.
"So we will have a special trial for him right-handed at Melton on Monday night and if he pleases me he will come across."
Elegant Image could contest the Greenlane Cup on April 19 before the $100,000 Anzac Cup on April 26 and then his main aim, the A$150,000 Rowe Cup on May 3.
A win or a few placings in those races would also earn him enough money for a start in the new 5-year-old division of the Harness Jewels at Ashburton on June 2.
Also heading to the Jewels but with an even busier lead-up is Victoria's champion 3-year-old trotter Blitzthemcalder. He was brilliant winning at Melton last start and looks one of the best of his age ever produced in Australia so Kiwi-born trainer Ross Payne has been eyeing a return home with him since last August.
While he meets a local crop crammed with talent, Blitzthemcalder has been opened the $2.60 favourite for tomorrow night's New Zealand Trotting Derby at Addington.
He has pleased Payne with how he has settled at Mark Purdon's Canterbury stables but will start from the outside of the front line, with Victorian superstar reinsman Chris Alford coming across to drive him.
The TAB has opened Ohoka Punter the $1.50 favourite for the New Zealand Pacing Derby tomorrow night, while Christen Me is a $1.30 favourite for his race tomorrow night, which will decide whether he heads to Sydney to chase a Miracle Mile start on April 28.
Meanwhile, Vulcan's trip to Sweden has been moved forward, with the tiny trotter to leave Auckland next Tuesday.
"The flights suit and he will go to Amsterdam, have a few days rest and then head to Stockholm," said trainer Tim Butt, who hopes to races Vulcan in Stockholm in the first week of May before the Elitlopp on May 26.

Aussie invaders
* Two of Victoria's best trotters are aiming for New Zealand's elite races.
* That reverses the usual trend of Kiwi trotters pillaging Aussie's best trots.
* Blitzthemcalder is favourite for tomorrow night's NZ Trotting Derby at Addington.
* Elegant Image is targeting the Rowe Cup Meeting at Alexandra Park.