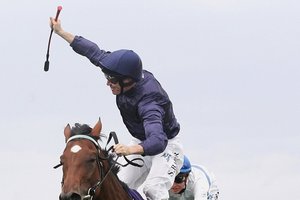 Jockey Stephen Baster has capped a triumphant return to Australian racing with a group one Australian Guineas win on Ferlax at Flemington yesterday.
Baster was forced out of Singapore in sudden and unexplained circumstances last month but he has taken little time to re-establish himself in Melbourne.
He made the most of his first ride on Ferlax, giving the colt a dream run in the $500,000 race at Melbourne's premier racetrack.
Ferlax, backed from $21 to $17, was parked behind the leader and took an inside run to beat You're So Good, the only filly in the race.
Sheer Talent, who did all the bullocking work outside the leader, held down the minor placing.
"It's a big thrill to come home and have a run like I've had," Baster said.
The Hawkes Racing team was expected to be celebrating a feature win at Flemington yesterday.
It just wasn't meant to be with Tavarnelle.
Tavarnelle's superstar stablemate All Too Hard was to start an odds-on favourite in the group one Australian Guineas but was a shock race morning scratching due to an elevated temperature.
It left Tavarnelle as the only Flemington runner for the Hawkes team in the group three Frances Tressady Stakes (1400m) and she duly won to brighten the spirits of co-trainer Wayne Hawkes.
"It was a weird feeling driving in to Flemington today but it's amazing how everything happens. And it's a good result, this one," Hawkes said.
Tavarnelle did have some support, firming from $17 to $12, and sat outside the leader Sheila's Star ($3.50) before edging her out in the run to the line to win by a short-head.
Koonoomoo ($6.50) came in another short half-head away in a blanket finish.