I'm Themightyquinn, Mah Sish and Caribbean Blaster the other standouts in A$750,000 feature.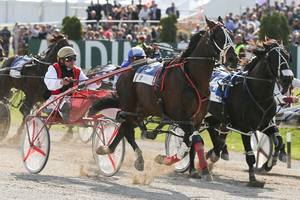 There is nothing Brian Hancock loved more during his storied career than beating the Kiwis in the Interdominion.
But even the man who earned the title King of the Interdoms will be cheering for New Zealand hero Terror To Love in tomorrow's A$750,000 final at Menangle.
And he says what he saw 14 years ago, as well as what he has seen just this week, makes Terror To Love the horse to beat in the great race.
The Interdominion has been controversially rejigged but the result is an outstanding field of in-form pacers racing over 3000m mobile around the lightning-fast Menangle track.
Terror To Love is the slight favourite over two-time winner I'm Themightyquinn, with Mah Sish and Caribbean Blaster the other standouts in the market.
While the distance of the race suggests all runners will get their shot at the title, Hancock knows better than most that might not be the case.
He drove Sir Vancealot to win the 1999 final at Alexandra Park over 3200m mobile and says such unusual conditions can lead to soft early sectionals.
"People think it is going to be on all the way but a lot of drivers were scared by the long distance and mobile back then and they could be this week too," Hancock told the Herald.
"If that happens they could go a lot slower than expected the first lap and then those horses at the back will face a huge task trying to catch the leaders."
That would aid Terror To Love as he is the most proven stayer in the field, having won two New Zealand Cups, both after moving mid-race.
That strength gives him a tactical advantage over I'm Themightyquinn and he has a class edge over his other rivals.
Critics of the magnificent stallion point out he failed dismally last time he went to Menangle, for the Miracle Mile 16 months ago, but Hancock says Aussies will see a different horse tomorrow.
"He stayed at my place back then and he is staying there now and he has matured enormously," said Hancock.
"Last time, he was coming off a NZ Cup campaign but now he has been set for one race.
"He is bigger, stronger, has settled in well and I think they will have a devil of a job beating him."
That confidence is mirrored by trainer Graham Court, who says Terror To Love is as good now as when he won the New Zealand Cup in November.
"He is spot on. I am not worried about the track, the travel or anything else," says Court.
That means Terror To Love is the pacer to beat, with the greatest concern how driver Ricky May plans to handle a tricky front line draw.
I'm Themightyquinn is the logical danger but his dazzling speed may not be ideally suited to Menangle unless he gets the right cart into the race.
That could be hard to come by if Terror To Love, Mah Sish and Caribbean Blaster are all racing on the speed starting the last lap.
Mah Sish has been superb in his last three wins and can win again if he can lead while Caribbean Blaster would love sitting off a hot pace and has group one winning form at Menangle.
Meanwhile, Sir Lincoln (who races as Lincoln Royal tomorrow) is expected to pass a vet exam this morning to take his place in the field.
His hoof abscess has burst out and started to heal.
But it has hardly been an ideal preparation for such a tough assignment.

Interdom Day
What: Interdominion Final day.
Where: Menangle, West Sydney.
When: Begins 2.30pm tomorrow.
Who: Best harness horses in Australia in seven group one races.