Vance is desperate to stop Colgan riding the $2.80 favourite Habibi to victory to spoil his record.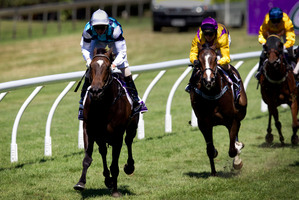 This is a grudge match made in heaven.
During his relatively brief riding career Bob Vance kicked home four winners of the New Zealand Derby at Ellerslie.
He was understandably confident that probably wouldn't be broken in his lifetime.
A decade later along came Vinnie Colgan and put his name four times on the Derby-winning jockeys' scoreboard.
This afternoon the pair go head-to-head with the two favourites in the group one $750,000 TV3 NZ Derby at Ellerslie, Habibi and Castlzeberg.
Vance is desperate to stop Colgan riding the $2.80 favourite Habibi to victory to spoil his record and with Castlzeberg he has the horse most likely to stop him.
Who would have thought these two would come together in this manner.
Putting a real edge to the classic contest is that both are as confident as you can get going into a Derby.
"In the years I've been training I've never had a horse as well going into a race - any race," says Bob Vance.
Colgan has the utmost confidence in Habibi, who suffered defeat for the first time when third in the Avondale Guineas, but covered herself with the same sort of glory with a magnificent effort.
"She is so reliable, if she doesn't win she'll finish second or third."
A further edge is that Castlzeberg is the likely leader and the horse most likely to be attempting to chase him down in the closing 400m is Habibi.
The No 1 barrier is a handy friend in most races, but there is always a slight danger with it in a Derby in terms of getting locked away back on the rail.
Colgan is one of the more astute tactical jockeys out there.
Castlzeberg is nicely placed from gate No 11 for a horse going forward towards the lead.
"I don't know whether I'll be keen to knock myself out early from that gate," says Colgan.
"If I can give her an easy time in the middle stages I'll have plenty to play with late in the race.
I'm confident she'll run a super race.
For the Herald the two horseman summed up their thoughts on their Derby winning rides.
Zonda (1997) was unquestionably the best horse of the four Colgan won on, but the Matamata jockey was reluctant to declare him the biggest thrill.
"He was a super horse, but he was a certainty. I was very confident he'd win. Roysyn (1995) was a horse I liked.
"And I was pretty confident the Aussie horse (Redoute's Dancer, 2007) could get there. He'd won very easily in the lead-up."
Hades in 1999 was the fourth of Colgan's winners.
Bob Vance wasn't old enough to hold a driver's licence when he won his first Derby on Uncle Remus in 1977.
Uncle Remus led throughout and ran them ragged, behind which lies an interesting story.
Vance had been beaten on the outstanding colt in the lead-up Great Northern Guineas after not leading when he was told to by trainer and boss Colin Jillings.
"Colin came down to the weighing room after the race and I don't think I ever saw him more upset and he could get upset. He was fuming.
"He gave me a lecture and I didn't dare open my mouth.
"Finally I said: 'But boss he can't lead'. He kicked me up the arse so hard I landed in the jockeys' room.
"I led in every other race I ever rode Uncle Remus in."
I'm Henry in 1983 and Isle Of Man two years previous were Vance's next two Derby winners, followed by The Phantom Chance in 1992. "The Phantom Chance gave me a big thrill because he was headed in the home straight by Kaaptive Edition.
"In my career I don't think I was ever headed in the home straight and came back to win. I was a strong rider and by the home straight I had them flat and doing their best every time.
"The Phantom Chance was headed and still won.
"That was massive."
Not as massive as it will be for Vance if Castlzeberg beats Habibi in a thriller this afternoon.
•Gary Harding, owner of outstanding filly Fix, was incorrectly named in yesterday's Herald.
Harding is one of New Zealand racing's biggest owners including running a string of greyhounds. Fix will contest the NZ Derby today.

Derby tips
1 Habibi
2 Castlzeberg
3 Fix
Best roughies for a place
1 Kidwelly
2 Weissmuller