After stable hope drew outside gate for Derby, Kelso needed cheering up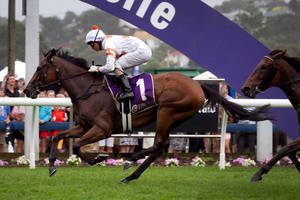 Matamata horseman Ken Kelso needed some good news and he received it yesterday morning.
Fix, the filly for whom owner Gordon Harding paid a $21,000 late entry fee to enter the Derby at Ellerslie tomorrow, drew the outside No18 barrier.
A slice of good fortune, or encouraging news, would be welcome.
"Someone told me at yesterday's trackwork session that Tidal Light started from No18 when she won the Derby," said co-trainer Kelso yesterday. "So when I got home I called Jim Gibbs and he confirmed the story for me. It gave me heart that another filly had done it.
"I can't say I'm delighted to be coming out of No18, but I'm not worried now. Of course, it would be good to be coming out of barriers from six to eight or six to 10, but you can't do anything about it, so you run with what you've got.
"I asked Gibbsy what Tidal Light did and he said there is 500m to play with to the first bend, which is out of the straight, of course, and Tidal Light worked forward quietly under Grant Cooksley and got to the front by the winning post then something came around and took the front off her and she got the perfect trail."
Kelso said he and his training partner, wife Bev, were a little concerned about the question of the 2400m for Fix, but it was not their major focus.
"I've no doubt there are a heap of trainers in the race that are worried about the 2400m for their horse. After all none of them have tried it.
"You can't really take a guide from the two 2000m races she's had.
"In the Royal Stakes, she drew the outside at that tricky Ellerslie 2000m start and had to be hunted up early, so it was a big effort to hold on.
"And in the Sir Tristram Classic at Te Rapa she had to ridden quickly out of the gates again to stay handy.
"She won't be hunted like that this time."
The $21,000 does not look that bad when you take into account it allows for the $14,000 it takes for other runners to be in the start and that each runner gets $3000 if they finish beyond the prizemoney places.
"And, don't forget, she's won $250,000, so the money was never the issue."
Raceday rider Mark Du Plessis went to Matamata early last Saturday before Breeders Stakes day to ride Fix in her semi-final workout.
"She went with Emerald Queen and Mark was very pleased with her work." Habibi remains the $2.80 favourite with the TAB, with Castlzeberg second favourite.
Habibi's third in the Avondale Guineas was a huge effort after little went according to pre-race plans for rider Vinnie Colgan.
The previously unbeaten filly was many lengths off the pace on the home bend after being late working clear and her finish was a feature of the race.
A feature of the market is the strong support for Alert.
Market: $2.80 Habibi, $5 Castlzeberg, $9 Fix, $14 Choice Bro, Alert, Deane Martin; $16 Weissmuller, $18 Soriano, $26 King Kamada, Zinko, Dubai Shuffle; $31 Kidwelly, Celtic Chief, The Grinner; $51 Addictive Habit, Solar Eclipse, Corporal Lincoln; $81 Saint Kitt.