Habibi will certainly become co-trainer's beloved should she win the TV3 Derby.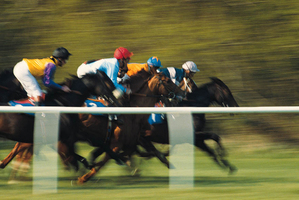 Donna Logan knows what to do if she starts to feel even slightly anxious about Habibi drawing the ace for Saturday's TV3 Derby at Ellerslie.
She has only to look at the draws of many of her key rivals to feel a whole lot better.
Logan co-trains Habibi, who will start favourite in the Ellerslie classic even though the ace draw isn't exactly the one she would have chosen.
It means Habibi may have to press forward early to avoid traffic concerns or becoming trapped back on the inner.
"Sure, I would have preferred barrier four or five," said Logan. "But barrier one is a hell of a lot better than barrier 18."
Which is where one of the other favoured fillies in the Derby, Fix, for whom connections paid a late-entry fee, has ended up.
She drew barrier 18, with fellow fillies Soriano at 15 and Kidwelly starting from 13.
The big boys haven't fared much better, with Karaka Mile winner Choice Bro at 14, Weissmuller getting barrier 16 and Castlzeberg a far more suitable barrier 11.
From there, he will be expected to roll forward and try to lead, which would suit Logan just fine.
"I think most people expect Castlzeberg to be the leader and roll along and that could put us three deep on the fence waiting for the gaps. That is the shortest way home and I'd be more than happy with that."
Castlzeberg will have some new co-owners for Saturday, with Victorian-based racing syndication giants OTI having bought into him.
He will have his final start for Derby supremo co-trainer Bob Vance before heading to Victoria to be trained by Danny O'Brien.
"We are thrilled to get the horse and he will head to the AJC Derby," said OTI boss Terry Henderson.
"But then he might have a quieter spring later this year and we will set him for the Cups the following year."
Habibi goes into Saturday's Derby having tasted defeat for the first time last start in the Avondale Guineas 12 days ago, when beaten by Valbuena and Castlzeberg.
However, Logan is adamant she will strip a far fitter filly for Saturday's glamour meeting.
"She has improved dramatically since the Guineas and I couldn't be happier," says Logan.
"It is so rare you go into a race this big with a horse who has had nothing go wrong and I am just hoping that continues through until Saturday and beyond."
So, who is the horse Logan fears most heading into New Zealand's greatest race.
"All 17 of them," she says, without a hint of understatement.
"I know some people might think that is just something you say but Valbuena winning the Guineas showed us that you never know what talent lies in a field like this.
"So they will all be hard to beat, it is the Derby after all."
Valbuena was the most notable omission from the final Derby line-up, being pulled out of the classic just before Wednesday's barrier draw.
The TAB reopened Habibi as the $2.90 favourite after the draw, with Castlzeberg at $5 and Fix out to $9.

TV3 DERBY
* Habibi has drawn barrier one for Saturday's TV3 Derby at Ellerslie.
* While that is hardly ideal it is far better than most of her key rivals.
* Second favourite Castlzeberg has been sold and will head to Australian trainer Danny O'Brien after the Derby.
* Avondale Guineas winner Zalbuena is the only notable Derby omission.