Despite winning the Auckland feature in 2011 I'm Themightyquinn is a late entrant.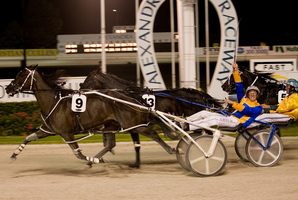 Australia's greatest pacer is returning to Auckland in a shock move that has forced betting on next week's Auckland Trotting Cup to be suspended.
I'm Themightyquinn will return to the track where he won the Cup two years ago after a late entry fee was paid by his connections yesterday.
The Perth pacer will contest the A$750,000 Interdominion Final in Sydney on Sunday before joining a large contingent of New Zealand-trained pacers on a flight to Auckland.
His entry into the Cup forced TAB bookies to suspend betting on it and he will more than likely be equal favourite when it re-opens.
I'm Themightyquinn's trainer Gary Hall was refreshingly honest about why he didn't originally nominate I'm Themightyquinn for the Cup last week.
"I didn't know it was on," he said.
"I was just concentrating on the Inters over here but it makes sense to go to Auckland.
"From a travel point of view I was going to have to float him eight hours to Melbourne to get a flight home.
"Whereas, now he has a three-hour flight to Auckland and it is actually easier to get a direct flight back to Perth from there."
And then there is the little bonus that I'm Themightyquinn loves Alexandra Park.
He won the Auckland Cup there two seasons ago, beating Mr Feelgood, before finishing second but promoted to first in the Interdominion Final that was moved there from Addington because of the Christchurch earthquakes.
"He thrives over there and the track really suits him," said Hall.
"So it is a great race for us to tackle and the late entry fee is only $1250.
"As soon as I told the owners they were dead keen to go so all things being equal after Sunday he will be on the plane."
I'm Themightyquinn could be joined in the five-day turnaround from Sunday to the Cup by Terror To Love, Mah Sish, Sir Lincoln and even Bettor Cover Lover. But Sir Lincoln has to make it to Sunday's race first.
He will undergo a veterinary examination in Sydney today to determine whether he will be allowed to start in the Interdominion Final.
The defending Auckland Cup champion had an abscess burst out of his foot this week and a Harness Racing NSW vet was unimpressed by what he saw during a routine inspection on Tuesday.
The problem is expected to heal during the week and Sir Lincoln will more than likely start on Sunday but if he doesn't the complexion of the race could change greatly.
His connections have already declared they want him to lead at all costs in the final but if he pulls out of the race then other favoured contenders on the front line may fancy their chances of going forward.
And that could play into the hooves of Mah Sish or even Terror To Love.
Meanwhile, Kiwi 4-year-old Christen Me has been smashed with bookies all over Australia to win Sunday's A$200,000 Chariots Of Fire.
He led and downed I'm Themightyquinn in a trial at Menangle on Tuesday, pacing a 1:53.1 mile.
That saw a wave of money come for the Cran Dalgety-trained pacer and he went from $3.20 to $2.40 with most bookies.