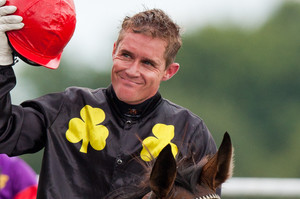 Hastings trainer John Bary believes if Recite and Bounding met 10 times, the result would be 5-5.
Probably, a fair call.
The score card at this point is Recite 1 - Bounding 0.
Saturday's $100,000 J Swap Matamata Breeders Stakes resulted in a dog-fight that would double race crowds if every race was a replica.
The two outstanding fillies staged a battle from the 300m that would do justice to a world middleweight title fight.
Bary often cops criticism for his apparent confidence, but with Jimmy Choux and now Recite on the honours' board, he's entitled to at least some boasting rights.
The home straight battle was a classic. Bounding got to the front - rider Vinnie Colgan said too soon - in the home straight and Recite attacked quickly.
Recite looked to have the advantage, but Bounding fought back to the degree that she actually drew level and even marginally in front at the 120m before Recite edged ahead in the final three strides.
Rider Mark Du Plessis and John Bary had been confident Recite could cope with Bounding.
"Her times in training have been remarkable," said Bary yesterday.
"Jimmy Choux used to run times at home, but not like this filly."
Bary rates his filly's greatest attribute as her brain. He said Recite had come through what was a hard race very well.
And so did he. "I took the team to an Irish pub for lunch today, but we've been pretty quiet.
"The main thing is the filly has come through the race beautifully.
"Her legs are really cold this morning and she's very pleased with herself. I'm quietly chuffed about that."
No one was more pleased about the victory than The Oaks Stud's general manager Rick Williams.
The Oaks has maintained a policy of offering to train horses owned by The Oaks in return for buying products of The Oaks at yearling sales.
That policy resulted in Shaune Ritchie producing a 1-2 result in the NZ Oaks with Artistic and Zurella.
Bounding and Recite went into Saturday's race unbeaten - a deadheat would have been the perfect result.
Qualifying stakes-wise regardless, the Boundless team have almost certainly swerved away from a start in the Golden Slipper Stakes.
It has more to do with Bounding's future development than her immediate prizemoney.
"I've had horses at Golden Slipper day before and it [the excitement] can fry their brains," said co-trainer Ken Kelso.
"She got herself worked up yesterday, she was sweating up, and I don't want her to go there and blow her brains. She hasn't shown mentally she's up to it, I don't think. She's only a 2-year-old."