London-based joint owner of Warriors loves lifestyle here.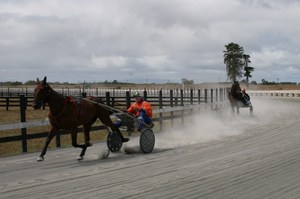 Eric Watson jokes that he'd like to tow New Zealand into the Mediterranean so that he can pop across from London at weekends.
In the next breath he rejects that idea as one that would ruin what he so loves about the place.
"A bit like putting Waiheke off the coast of Sardinia."
As joint owner of the Warriors and one of New Zealand's most visible, globe-trotting millionaires, Watson has been embraced by many. But as a co-owner of Hanover Finance, which shut up shop leaving mum-and-dad investors penniless, he has angered others. Watson had already moved to the UK before Hanover froze its funds, and he rode out much of the controversy there, far away from the angry investors.
But the 53-year-old returned to Auckland last month to visit his sick elderly mother and has spent the summer here with his Swedish partner Lisa Henrekson, their two sons, Lucas, 7, and Leon, 3, and Watson's 18-year-old son Sam. Based at his Karaka home, Watson has watched his young sons swim, play cricket, fish in the Hauraki Gulf and "watch the Warriors".
"They love it here, running around, they really do," he said. "It's very motivating to bring them back here. In London you just don't get the same opportunities."
The family will stay until next month - Lucas has a tutor to make sure he keeps up with schoolwork. The Warriors play the Roosters at Eden Park on March 16, and Watson plans to be there.
Fellow Hanover co-founder Mark Hotchin and his family still live in self-imposed exile in Australia, but Watson intends to spend more time in New Zealand, alternating between his home in London's West End where he has lived for 11 years.
Watson dismissed suggestions he had stayed in London to avoid hostile Kiwis with long memories.
"I'm involved in a lot of companies and you take the good with the bad. I was an investor in that company and it didn't work out that well. It's going through its due process."
Watson said he hadn't encountered any hostility. "I get comments about the Warriors consistently. Trust me, New Zealanders aren't backwards in coming forward."
This week, Watson and Sam battled it out at harness racing at trainer Graeme Rogerson's Dormello Stud outside Hamilton. Sam has gradually beaten his father in golf, skiing and fishing, so Watson challenged him to a trotting race.
Emailing the "awesome photo" to the Herald on Sunday to prove his win, Watson said, "That's my son in my dust." For now, anyway, he added.
But the summer hasn't all been play. Watson is on the lookout for investments, particularly in farming. Encouraged by a project in Atlanta, Georgia, where he has converted 1215ha of corn farm into Kiwi-style dairy farms using New Zealand grass seed, technology and semen, Watson said he would buy farming land if the right opportunity came up.
He was also looking at breeding alpacas. And he would continue to breed horses, encouraged by seeing Ruud Awakening, bred at Watson's Westbury Stud in Karaka, win at Ellerslie Racecourse this week.