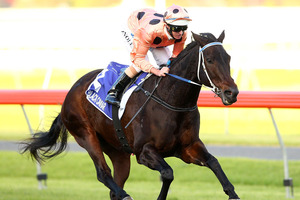 The race to get closest to Black Caviar will provide an intriguing sidebar to the group one Lightning Stakes at Flemington today.
The champion mare has already won the Flemington sprint twice and getting the job done a third time appears a mere formality.
Seven horses will chase her down the famous straight, with none of the rival trainers or jockeys foolish enough to contemplate pushing her at the finish.
Even Black Caviar's trainer Peter Moody admits the two stablemates he is sending around against her aren't there to win first prize.
Moody will start Moment Of Change to give him some experience of Flemington ahead of his main target, the Newmarket Handicap, a race not on the champion mare's radar.
He will also run Golden Archer, a smart sprinter in his own right, who needs an autumn starting point.
"I'm not kidding myself and expecting either of them to trouble their stablemate, but I'm expecting them both to run well," Moody said.
Promising 3-year-old Shamexpress is also using the Lightning as a pipeopener to the Newmarket. He will be ridden by Glen Boss, who might normally be expected to talk up the chances of an up-and-comer in a big race.
Instead, Boss is hoping to feature in the trifecta.
"He's one of the leading chances to fill the top three placings," Boss said.
Of the remaining runners, former Adelaide gelding Go The Knuckle could do no better than seventh to the great mare in the group one Goodwood at Morphettville in May, beaten by 11 lengths. Now with new trainer Robert Smerdon, he may be able to finish a little closer.
First Command and Satin Shoes are both proven stakes performers and have place claims.
For connections of Spirit Cent, the thrill of having a horse run against Black Caviar will be one to savour.
Their gelding was beaten at Bairnsdale at his most recent start in October and is a $301 chance.
Punters have pinpointed Moment Of Change ($15) and Shamexpress ($17) as the best of the chasers, while at $1.05 Black Caviar will start shorter than she has in winning the past two Lightning Stakes.
This year's race has been renamed the Black Caviar Lightning in her honour and it might just prove her most memorable. Victory in the Lightning will add A$300,000 to Black Caviar's account, taking her prizemoney total to A$7,302,436.
It would also place her firmly at top of the world rankings - at least until the European flat racing season gets into full swing next month.
"She is bigger, stronger and, most importantly, happier than she's been in ages," Moody said.
"She's enjoying herself and that's what I wanted to see."
- AAP