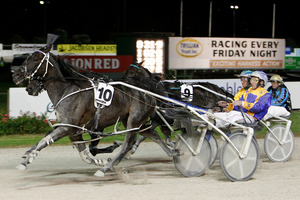 The Interdominion may be changed forever, but the equation remains the same for punters - find the winner.
So here is a look at the leading 10 chances going into Saturday's frenetic night of five heats, run in four different cities, to try to find the best chance of winning the March 3 final at Menangle.
•Terror To Love (New Zealand): Dual New Zealand Cup winner so will thrive over the 3000m mobile of the final.
Has been outstanding this campaign and likes to sit just off a hot speed so final looks perfect for him.
Hasn't done a thing wrong all season.
•Caribbean Blaster (Victoria): Victoria Cup winner who has group one winning form at Menangle, winning last season's Chariots Of Fire.
At his best when he can stalk the leaders and swoop so big track and distance suits.
Has had slight setback this week but unlikely to be an issue in two weeks.
• Mah Sish (New Zealand): Has been a huge mover this season after getting as long as $100 in this market.
Has won Ballarat and Hunter Cups at last two starts, the latter in a brilliant and brave display. Trained and driven by the Butt brothers, who are masters at Interdominions.
•I'm Themightyquinn (West Australia): Two-time defending Interdom champion who has surprisingly lost four of his past five.
At his best is a sensational sit-sprinter and trainer adamant he is working as well as ever.
Would be a fitting finale to career but still too short in the market because of poor Eastern States form.
•Smoken Up (Victoria): Magnificent veteran who loves Menangle, where he paced Australian record 1:48.5 mile.
May be lacking an ounce of the speed he had two seasons ago but over 3000m mobile likely to be leading at some stage and simply doesn't stop.
•The Gold Ace (New Zealand): Best known as a sprinter this season but has the genius Tony Herlihy in the sulky, who has more major staying race wins than any driver in Australasian history.
Has gate speed to make own luck in the final.
•Bitobliss (Victoria): Has had an interrupted summer but spring form was superb.
Could be the big mover in the next two weeks.
•Sir Lincoln (New Zealand): Auckland Cup winner who can dominate three-horse heat this Saturday.
Has had tricky season but likes Menangle and could be the long odds bolter coming right at the right time.
•Excel Stride (NSW): Has been disappointing this campaign but should be getting fitter and does have Menangle's leading driver in Luke McCarthy. Still too short on fixed odds, though.
•Karloo Mick (NSW, $31): The grand-daddy of Australian pacing burst back to form in the Australia Day Cup and will love a hard 3000m around the big track.