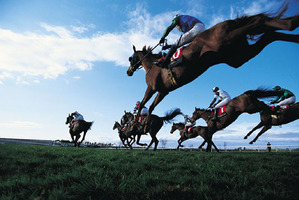 Sydney horseman Peter Snowden would have a mortgage on the A$1 million Blue Diamond Stakes (1200m) at Caulfield in a fortnight but for one left-field intruder.
Snowden won both divisions of the Diamond Preludes (1100m) on Saturday, with his personal fancy Guelph defeating a gallant stablemate Montsegur in the fillies' division, and the colt Kuroshio winning the boys' division.
He also has another fancied contender, the filly Metastasio, a last-start winner of the Diamond Preview (1000m), primed for Victoria's premier juvenile race.
"We'll run three, maybe four of them," Snowden told the Herald Sun.
He noted that the fillies have had the better of the colts and geldings this year, and that one particular filly had set the bar high.
"There's Miracles Of Life to consider. Without doubt she is the one to beat. She is very good and won [the Preview] very well, so whatever I run will need to be on their game," he said.
Bookmakers reacted swiftly to Snowden's assault on the race and the impeccable performance by Guelph. She firmed from $6.50 into $3.30 for the Diamond with sportsbet.com.au, with Miracles Of Life drifting from $2.80 to $3.10 as a consequence.
Metastasio is the $7 third favourite, while Montsegur is on the seventh line of betting at $26, just behind Kuroshio who firmed from $41 to $21.
Snowden could not have wished for a better trio or quartet to launch into the Diamond.
Geulph, following up her impressive win in Sydney a fortnight ago, did everything right around Caulfield.
She jumped well, settled in a forward position, negotiated the corner without mishap and ran down her talented stablemate.
Starting at $2.25 favourite, she had 1 lengths to spare to Montsegur ($3.40), who led until the shadows of the post. Godiva Rock ($18) was a further 1 lengths away third.
They ran the 1100m in 1:03.88, the last 600m in 33.96s, quicker than Kuroshio who hit the post in 1:04.10, the last 600m in 35.41s.
"I've had one race in mind with Guelph and I've fancied her all along and she'll be primed for the day," Snowden said.
He was delighted with both his fillies.
"It was good to see Guelph jump better today and have no trouble with the track.
"And Montsegur was terrific but ran into one with a bit more class on the day."
Given the fillies have had the better of the boys in the lead-up, the colt Kuroshio could be saved for other races - especially after he wobbled around the corner, which he could not afford to do in the helter-skelter of the Diamond.
"It was impressive that we were able to win from nowhere, really," Snowden said.
Jockey Kerrin McEvoy said that Huroshio jumped so well from his outside gate that he had to go forward.
He then had to restrain him when two others charged up his inside.
"He never really settled but he battled it out," he said.
Huroshio ($3.30) held on to beat impressive debutant The Bowler ($8) by a neck, with Dissident ($3.40) a further short neck away third.