King of NZ's sprinters will bypass easier pickings at Te Rapa to clash with boom colt.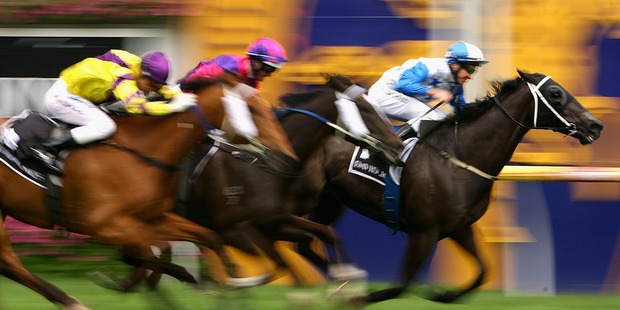 New trainer Bruce Wallace says he will claim only part of a group one victory if stable newcomer Mufhasa pulls off a shock win in the CF Orr Stakes at Caulfield on Saturday.
Mufhasa, who races in Australia as King Mufhasa, will be having his first start for Wallace since controversially being taken off career-long trainer Stephen McKee two weeks ago.
The fact that he is heading to Melbourne so early is the second shock, with McKee originally intending to start Mufhasa at Te Rapa this Saturday.
However, owner David Archer has instructed Wallace he prefers the A$400,000 CF Orr Stakes, in which Mufhasa could clash with glamour colt All Too Hard, back fresh-up from his Cox Plate second last October.
Mufhasa will leave for Melbourne tonight and the plan is to also contest the Futurity Stakes on February 23.
He will be ridden this time by Melbourne jockey Michael Rodd, as Nash Rawiller, who won the 2011 Toorak Hcp and last year's Futurity aboard the gelding, is injured.
The wrenching of Mufhasa off McKee was an enormous surprise to anybody in racing and one Wallace is adamant he tried to talk Archer out of.
"I was sitting talking with David about some horses coming here and Mufhasa came up and I told him I thought he should try and work things out so he stayed at McKee's," Wallace told the Herald.
"But he told me he had already tried that and by that stage I could see the horse was leaving regardless.
"I felt a bit funny about taking him, of course, but if it wasn't here it was going to be somewhere else."
So has Wallace spoken to McKee about the high-profile change?
"Sticks [Stephen McKee] saw me at the Karaka Million meeting and said, 'G'day Brucey,' and gave me on a pat on the back.
"With guys like him and Trevor [McKee] there is no need to explain anything. They have been around racing long enough to know how these things work sometimes."
But Wallace is adamant any glory garnered on Saturday will be shared with McKee, whether he wants it that way or not.
"As I have told anybody who has asked, the horse came here in magnificent shape and I am not going to be claiming a group one win next to my name if he gets the job done on Saturday.
"As far as I am concerned, we have done our best to look after him and carry on the good work."
Wallace knows that in the eyes of some cynics he is on a hiding to nothing taking on a 10-time group one hero, but says he can't let that bother him.
"We now have a job to do and that is to get him to these next two races in the best shape we can."
And he can see the funny side of the predicament. "Well, we haven't had him long enough to ruin him yet and we haven't done enough with him to improve him."
Taking over the two-time Horse of the Year has come with some other surprises.
"He is hardly the greatest track worker we have ever had," said Wallace.
"He seems happy in himself but on the track you wouldn't think he is who he is."
While Te Rapa officials would have loved to see Mufhasa head there, the Melbourne move has merit.
Outside of All Too Hard, the CF Orr lacks genuine group one depth and the weight-for-age races at the start of carnivals are usually easier to crack than later when the best Australians will be fitter.
"I have no doubts the Futurity in a couple of weeks will be stronger so while Te Rapa would have been easier, we are happy to be taking him to Caulfield on Saturday.
"And the weather reports are good so we will hope for the best."
And a partial group one training credit.
Shock debut for Wallace newcomer
*King Mufhasa will make his debut from his new stables on Saturday.
*He heads to Melbourne for the A$400,000 CF Orr Stakes.
*That means taking on super colt All Too Hard.
*Trainer Bruce Wallace says the veteran superstar is as well as he can be.