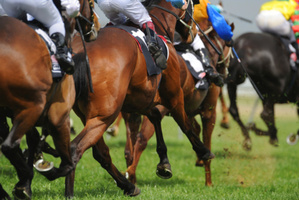 She arrived for her much-anticipated matinee performance like a shy starlet, head down and stealing coy looks at her fans.
The she turned her back and lifted her tail and she was what she is. A horse.
Black Caviar is one of the best of her breed on earth, and even though the fence around her racecourse stable was lined with television cameras, kids in her orange and black silks and mothers and fathers with snapping cameras, she wasn't going to pretend to be anything else.
Black Caviar came to Caulfield on Saturday to perform an elementary task that was as vital to her future as anything she had done in the past eight months.
She ambled around the saddling paddock, bounced on to the track and did a jig-jog past the grandstand that her trainer Peter Moody interpreted as simple joy.
"She's enjoying it," Moody said.
"She's happy and that's as important as anything else with her."
Her jockey Luke Nolen let her idle around to the 1000m pole and then eased himself forward over her neck and she started to flow.
After 200m, Nolen gently squeezed his knees together just behind her wither and she got a bit keener, and at the 400m mark Nolen asked her for an effort.
"She loved it," Moody said.
"It's what I wanted to see."
Black Caviar hadn't appeared in front of an audience since last June when the Queen cheered her home at Royal Ascot in her 22nd win from as many starts.
"This is the best that we've had to work with in a long time," Moody said.
"Her muscles and joints are good and she's happy."
For part-owner Gary Wilkie the workout proved he and his fellow owners were doing the right thing by asking Black Caviar to race again.
"The last time we saw her there were bits and pieces falling off all over the place," Wilkie said.
"But this was fantastic.
"We will go on to the race in two weeks and then have another look at her.
"There's plenty of races but we'll take notice of whatever the trainer says.
"He will decide and he will decide for her benefit, not ours."
Black Caviar will run in the race named in her honour, the Black Caviar Lightning Stakes, at Flemington on February 16.
It will be her 23rd start, and she'll win it just as she has the previous 22.
-AAP