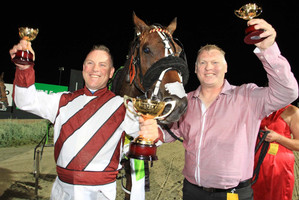 Ask Anthony Butt the secret to his driving a record seven Hunter Cup winners and the answer is simple.
"My brother," says Butt.
While that may not be technically true - Butt's brother Tim has trained only five of Anthony's seven Cup winners, it ends any ideas Anthony has of taking over the family stables.
It has been a crazy last year for the siblings, with Anthony having to steer the ship as trainer, when Tim was disqualified from training for six months.
It was during that time, when cutting his teeth training a big team for the first time, that Anthony realised his brother's genius.
"And while I didn't mind the training, to be honest I prefer it when I do the driving and Tim trains," he said.
"He is just that good at it. He is great at getting the horses healthy and keeping them happy.
And he is a genius as peaking them for the right races, as you just saw."
That is hard to argue with as Mah Sish has developed from a open-class bridesmaid in November to a back-to-back group one winner, with Saturday's performance world class.
After working to get the lead, Mah Sish was pressured throughout the 3280m event and looked to be struggling at the 400m.
But he kept fighting and hit the line in a track-record time, just holding out Jaccka Clive, with Caribbean Blaster a brave third.
The win suggests Mah Sish is racing at least three lengths better than when he finished fourth in the New Zealand Cup in November and he is now the second favourite for next month's A$750,000 ($923,000) Interdominion in Sydney.
"He has to be a huge show there, too, because he is racing so well and will love the 3000m mobile," says Butt. "He may not be a champion yet and might lack an inch of really high speed but he is a great stayer."
The Mah Sish story is typical of the Butt brothers' philosophy.
Rather than spending up big at the yearling sales they buy going horses - anything from a former United States star like Mr Feelgood, to an unraced 2-year-old like Stunin Cullen to a tried mid-grade performer like Mah Sish.
Then they place them in the best races Australasian-wide to win as much money as possible for the owners. And when it comes to doing that there is nobody better.
Mah Sish was not hugely expensive when bought from Dean Taylor's stable 14 months ago but has already paid for himself twice over and now looks to have a couple of seasons racing for millions ahead of him.
He is the second favourite for the Interdominion behind Terror To Love, who Butt drove to two group one wins last season.
While Butt admits Terror To Love is still the benchmark, he thinks Mah Sish has some advantages heading to the Sydney final.
"Our horse is over here and acclimatised and racing at his peak, whereas Terror To Love still has to come back to Australia.
"And Menangle can be a funny track, it doesn't suit some horses, but I am sure it won't bother our fella.
"They are a very even bunch so it is not going to be an easy race to win but we are right in it now."
The five heats of the series will be run at Alexandra Park, Melton, Menangle (two) and Perth over just two hours of February 16.
Mah Sish will contest the Menangle supplementary heat for which he became eligible by starting in the Hunter Cup.