Archer's astute $9000 investment will reap rich reward on opening day at Karaka.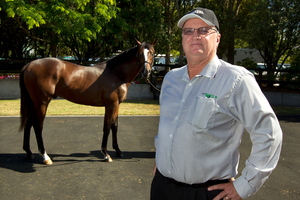 Thirteen years ago, Peter Archer had no horse racing aspirations beyond simply owning his first horse.
Late this afternoon, he will sell one of the more sought-after lots on the first day of New Zealand Bloodstock's Karaka Yearling sale.
It is Lot 171, the Zabeel-Gwen's Rules colt, part of Cambridge Stud's headlining draft.
Gwen's Rules was the $9000 Festival Sale purchase Archer ended up with when he commissioned trainer Frank Ritchie to buy him a relatively budget thoroughbred.
This afternoon, that modest outlay will turn a sum deep into six figures.
Call it beginner's luck, the lure of the turf, or anything in between, but convincing Archer luck played a major part will not be easy.
"Some people go to the sales and pick their own horses out and good luck to them, but, personally, I think they're crazy if they don't seek the advice of a professional trainer.
"People like John Wheeler, Graham Richardson, Frank Ritchie and a host of others are only too pleased to help."
The big price the Zabeel-Gwen's Rules colt will command this afternoon is thanks largely to his dam's racetrack record, nine wins, three at stakes level and her slightly luckless second in the group one Railway at Ellerslie.
And, of course, because of Zabeel, who stands at Sir Patrick Hogan's Cambridge Stud.
This is Gwen's Rule's fourth foal. Two of the previous three were by One Cool Cat and didn't race and a Zabeel filly brought $340,000 at Karaka, but died before she could race.
"This is the best foal out of the mare," says Mark Forbes, Sir Patrick's manager of the colts at the sales.
"He's a lovely type and has attracted plenty of attention." The buyers' bench at yearling sales are as eclectic as the vendors.
Among those at the opposite end of the scale from Archer is The Oaks Stud with its owner, Queenslander Dick Karreman and manager Rick Williams.
The Oaks is putting forward 40 horses at Karaka, 11 by boom sire of the moment Darci Brahma.
Williams picks out his headliners to go through the ring today as the Darci Brahma colts from Fairy Lights and In Stone.
"Tomorrow, we've got the Zabeel colt from Seachange."
The sales receipts by week's end will be interesting in the face of recessionary times.
New Zealand Bloodstock is naturally expecting some buying impact from the recession but have the following to fall back on in the past 18 months.
• Karaka graduates Little Bridge (NZ) and So You Think (NZ) claimed a coveted group one double at Royal Ascot 2012 in England - New Zealand and Karaka's first group one winners at the world famous meeting.
• New Zealand-bred horses and Karaka graduates won six Derbys last year - the VRC Derby, NZ Derby, Perak Derby, Hong Kong Derby, Singapore Derby and South Australian Derby - taking the tally to a remarkable 18 Derbys since 2010.
•Karaka graduate Ocean Park claimed the fifth Cox Plate in the past six years for New Zealand horses. New Zealand has bred 25 of the past 50 Cox Plate winners.
•Eleven Kiwi bred 3-year-olds have won group one races in Australia since 2011. Kiwi horses have won over a quarter of all Australia's group 3-year-old races since 2000 and a third of those over 2000m or more.
•Karaka graduates won eight of the 11 2012 Hong Kong Champion Awards, including a clean sweep of the Champion Sprinter, Miler, Middle-Distance and Stayer Awards, plus the Horse of the Year crown.
•These achievements are putting New Zealand and Karaka on the world map and they have maintained New Zealand Bloodstock's record as Australasia's leading auction house for group one winning yearlings.
Just over 20 per cent of all Australasia's auctioned yearlings go through the Karaka sale ring yet it has been the source of 75 group one winners in the past five seasons - that's almost 40 per cent of all group one winning yearling graduates in Australasia over that time.