Trainer has great respect for Gobi Ranger and Fantastic Honour, but is well aware of the luck factor.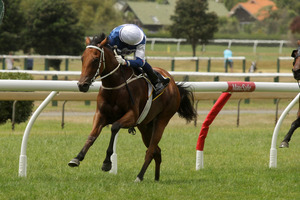 The last thing anyone wants going into a million-dollar race is a hiccup in the final week.
Trainer Stephen Marsh and managing syndicate owner Albert Bosma had one with their much-publicised disputed riding engagement for hot favourite Ruud Awakening.
If Marsh is feeling pressure from a dispute with his mate, rider Jason Waddell, he's hiding it well.
Yesterday Marsh was in sparkling shape after Ruud Awakening did her final piece of serious work at Cambridge in preparation for the dash for the cash.
Everything has gone beautifully," Marsh beamed. "This filly's work on Tuesday morning was stunning. I did very little with her this morning [Friday], she worked on her own and barely got up to three-quarter pace.
"She trotted up beautifully afterwards and the scope proved to be perfectly clear.
"Everything with this filly is super, she's never looked back."
Marsh is not disappointed with the No 7 barrier draw for tomorrow night's Ellerslie feature.
"I stated before the draw was done that my dream gate would have been No 5 because it probably gives you the most number of options, but I'm certainly not upset with No 7."
Marsh said he will be talking to his Australian jockey Craig Williams, but most of the options will be left up to the riding ranks' most careful planner.
"As you knew he would, Craig has already done his homework. He's watched all this filly's races and most of the races of the opposition.
"He said yesterday he's happy with the horse he's on.
"This is always a pressure race, but Craig's used to riding in million- dollar races. It's just another day at the office for him.
"They often go hard in the early and middle stages of this race and it will be up to Craig to work out what his options are after they jump."
Marsh has great respect for Gobi Ranger and for Fantastic Honour, but is well aware of the luck factor in such races.
"Luck in running will play a big part and the horse I fear most is the one that gets the least interrupted run.
"Put 14 2-year-olds on the track for a million dollars and you can get a rough race.
"Quite often the horse to beat is one of the least fancied ones that sits back out of trouble and gets home strongly.
"Pretty much that's what Fort Lincoln did when he won it."
•When former New Zealand apprentice Paul Shailer returned to New Zealand two years ago to take up training he knew instant success would be impossible.
Not even coming straight from being foreman for one of the great racing success stories, another ex-New Zealander, Chris Waller.
Shailer and his brother Kris will rate it as close to instant success if they can win tomorrow night's $1 million Karaka Million with classy filly Fantastic Honour.
And Paul Shailer is confident the grey filly has a great shot at the race.
He sees one of the keys as the No 1 barrier draw.
"I've yet to see a 2-year-old that doesn't get confidence from running against the rail," he told the Weekend Herald yesterday.
Fantastic Honour won her first two races at Otaki then came from last after racing erratically to finish a fabulous second to Gobi Ranger at Ellerslie on New Year's Day.
"We went up to Ellerslie that day essentially to give her the first look at Ellerslie but we were thinking the filly could win and I still think she probably would have if she hadn't played up.
"She didn't get away with the rest of the field, then she ran off the track before motoring home. I believe she would have beaten Gobi Ranger that day."
Shailer said the disappointment is that Fantastic Honour is beautifully behaved at home.
In fact, you couldn't find a better temperament in a filly. But she'd barrier trialled at Otaki and had her only two other races at Otaki, then suddenly she draws wide at Ellerslie racing in the other direction.
"I think she looked for a rail and saw the outside rail and headed towards it."
From the inside this time Shailer does not expect a repeat of that waywardness.
The Shailer team has been on fire lately and a win tomorrow night will be the further injection the brothers are looking for. "It was never going to be a case of hitting the ground running when we started out two years ago. We had to get our systems in place, get the ownership support and get great staff - it's not just one thing, it's a combination."
Shailer sees Kelly Myers riding most of the team as a big plus.
"I believe she is the form rider in New Zealand at the moment.
"I see Ruud Awakening as the horse to beat, but I don't see her as unbeatable. Gobi Ranger is a very smart horse.
"I don't want to be disrespectful to other people's horses, but on their last meeting I'd be surprised if he beat Fantastic Honour home."
Karaka Million
* Ruud Awakening has won three from four and should be unbeaten.
* The team behind her have put the midweek riding dispute behind them.
* Everything else, says trainer Stephen Marsh, has come up roses.
Mike Dillon's tips
1: Bally Duff, Bellazeel, Grande Bellezza, Valediction
2: Antonine, Righteo, Sacred Point, Volksbelle
3: Spinning Dancer, Single Act, Choice Bro, Corporal Lincoln
4: She's Samashing, Little Wonder, Volksbelle, Sedgwick
5: Ruud Awakening, Fantastic Honour, Gobi Ranger, Catalonia
6:Costume, Emma's Choice, Reminiscing