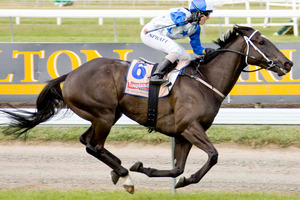 In one of the biggest racing shocks in years, Mufhasa has been taken off trainer Stephen McKee and placed with rival trainer Bruce Wallace.
It is understood McKee and senior partnership owner David Archer met at McKee's Ardmore stable on Thursday morning.
Not much more than 30 minutes later a float arrived to remove the Archer horses, including Mufhasa, from the stable.
Yesterday McKee was reluctant to discuss the matter in depth.
"All I want to say is the horse has won 20 races, 10 at group one level. I hope he retires in the same sound condition he left my place in."
For the record, the rising 9-year-old Mufhasa has so far earned $3.4 million under McKee's guidance.
His next start is likely to be the $200,000 Waikato Draught Sprint at Te Rapa next Saturday week, a race he has helped dominate in recent years.
The McKee stable has long been known for its meticulous planning of its programmes for horses, something that was highlighted by its magnificent management of champion mare Sunline.
Wallace told the Herald that when Archer approached his stable, the decision had already been made to relocate the horses.
"We already had a horse for David and he called earlier to say there was an issue and that if the issue could not be resolved the horses would be relocating.
"He said he had approached trainers in Australia and in Matamata, so we weren't the only ones being spoken to. It's a huge responsibility to take on a horse like Mufhasa that's won 10 group ones. We certainly haven't done it lightly.
"To give Stephen and Trevor [father, Trevor McKee] their dues, Mufhasa arrived here as fit as.
"He bounded off the float and he looks in magnificent condition."