Matamata trainer will be all dressed up with somewhere to go: Ellerslie on Sunday.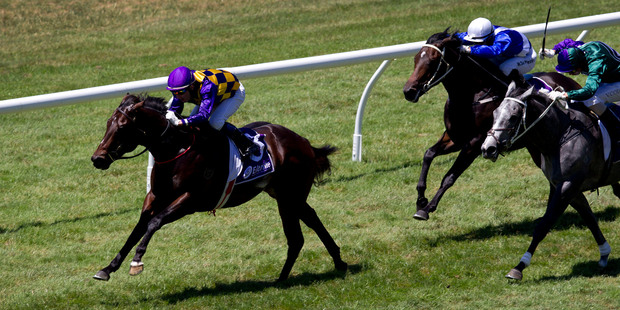 Danica Guy is determined to treat her first $1 million race just like any other - maybe with one small exception.
"I might wear a dress," she said.
The Matamata horsewoman isn't one to buy into the hype of the biggest racedays, not even one as glamorous as Sunday's huge twilight meeting at Ellerslie, highlighted by the $1 million Karaka Million.
"I am more of a dress-for-work sort of girl. I go to the races to look after my horse, that's what makes me happy.
"But I realise this might be a bit bigger than usual."
Guy trains Gobi Ranger, one of the favourites for Million after two effortless Ellerslie victories, including the Eclipse Stakes on January 1.
Gobi Ranger has thrilled Guy since that win and she is even happier with her replacement rider after usual jockey Jason Waddell opted for sensational filly Ruud Awakening.
That sees champion jockey James McDonald return from Sydney to partner her colt.
"I couldn't be happier and James rode him in his first trial," says Guy.
"Having James on board is great but, to be honest, I think he is a pretty straightforward horse to ride."
Gobi Ranger also appears pretty straightforward to train, with Guy having had no real worries since his last-start win.
"The summer heat can be a little hard on them at this time of the year but I haven't done much with him and he seems spot on.
"I will give him his final serious workout [today] and then it is a matter of keeping him happy until Sunday."
What would make Guy happy is if McDonald can find a spot just off the speed in the Karaka Million and let Gobi Ranger chase his rivals in the home straight of the 1200m feature.
"He hasn't really been tested yet so we don't know how much he will have left when he is, but I am sure there is more.
"And I think we will see that if he gets the chance to chase other horses."
A $1 million race is a big deal for any trainer but it is especially uncharted territory for Guy, who usually trains only about eight horses.
"I only used to train my own horses to race because so much of my business is pre-training and rehabbing other people's ones.
"But I have started to put a bit more time into taking horses to the races now and I am really enjoying that.
"I am lucky to have a really good team around me too, including Katie Hercock who does all the track riding on this colt and does a great job."
While Sunday could be a career-changing evening for Guy, the race is more of a defence for Victorian trainer Anthony Freedman.
He won the Million last season with Ockham's Razor and will have Minaj in Sunday's sprint. The filly won fresh-up at Mornington last month but was beaten into fourth at Flemington 10 days ago.
Minaj will get a look at Ellerslie this morning when she gallops at 7am with Freedman likely to be in attendance to oversee her work.
Sunday's twilight meeting also hosts the Karaka 3-Y-O Mile, the next lead-in to the Derby at Ellerslie on March 2.
And it will have many of racing's biggest players in attendance as they will be in Auckland for the Karaka Yearling Sales which begin on Monday.
Karaka Million
*New Zealand's only $1 million race is run at Ellerslie this Sunday.
*It is the highlight of a huge twilight meeting.
*Champion jockey James McDonald returns from Australia to ride Gobi Ranger.
*Australian filly Minaj will gallop at Ellerslie this morning.