Karen Parsons proves her versatility as breeder, trainer and owner of Telegraph winner.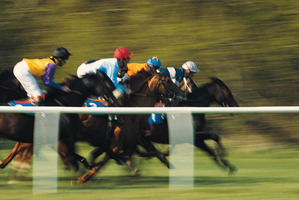 North Canterbury horsewoman Karen Parsons has always been a follower of pedigree matches in horse racing.
Husband and training partner John Parsons reckons it's BS, something akin to fortune telling.
Boy, does Karen Parsons own the moral high ground at the moment.
Final Touch, a mare she carefully matched up to breed by relatively moderate stallion Kashani, has won two group ones at Trentham.
Saturday's $250,000 Berkett Telegraph, coming on top of last month's Captain Cook Stakes, is the crowning glory for any mare.
"I don't know if matching pedigrees works or not, but I've always been interested in it," Karen Parsons told the Herald yesterday.
It's probably just as well for Parsons that his wife won't be returning to their Amberley training base until Final Touch takes on the group one Waikato Draught Sprint at Te Rapa in a couple of weeks.
The conversation around pedigrees as New Zealand Bloodstock's Karaka Sales is about to begin would be a little strained.
"John hates breeding. He has always preferred to buy his horses and yet some of the best success has been with horses we've bred," said Karen.
"There is always evidence on both sides of the breeding story and Rakau Tender is a good example.
"The pedigree man said it would never win a race. When it won a couple in the wet, he said it wouldn't win on a good track, then she bolted home in the Greymouth Cup on a good surface. So it doesn't always work."
The formline suggests Final Touch has only just reached her peak, but the Parsons have always known they have something special on their hands.
"When she was three we thought she would win the 1000 Guineas and I still think she would have but for getting an extremely bad virus. "The vets couldn't get on top of it and she was a sick horse for a long time.
"It's only now that she has finally come to her best."
When Final Touch won the Captain Cook, Karen Parsons declared that she and her husband might be in their last season of training horses because of the serious sight problems Parsons has suffered. He has been blind in one eye for seven years and has lost a vast percentage of sight from the other eye in the past 12 months. But those with involvement like the Parsons - they train thoroughbreds and harness horses - rarely just disappear.
Yesterday, Karen Parsons was already seriously thinking what she would breed Final Touch to when the high-class mare retires.
"There is a history of top-class mares not leaving much in terms of good racehorses, but I believe it comes down to who they are bred to.
"I'm going to be very careful who I breed Final Touch to and, hopefully, we'll get some good horses."
There was a strong suggestion at Trentham on Saturday that the inside rail was "off".
If you watch the finish of the races in the second half of the programme you can endorse a case for that.
The middle of the track and a couple of lanes either side were the fast lanes for those races.
Final Touch finished her race under Chris Johnson towards the middle of the home straight, but regardless of that you could not take the win off the grossly underrated mare.
Make no mistake, this was a phenomenal training performance by the Parsons.
They took Final Touch from the 1400m of the Breeders Stakes at Pukekohe on November 24 to win the 1600m of the Captain Cook then drop her back to 1400m for the Awapuni carnival.
To drop the mare back to 1200m for Saturday's group one victory was something very special.
"I've had a dream result with this North Island campaign," said Karen Parsons. "I've brought six horses up to base here near Levin and every one of them has thrived.
"That's very unusual and a great help when you're away from home."
If there has been a regret by Karen Parsons it's been that after two group one victories she has not had one chance to celebrate.
She did not get a chance after the Captain Cook a month ago and it was 11 o'clock Saturday night before she had her one glass of wine for the day.
"I'm sorry, but the saddling arrangements at Trentham are hardly ideal. I had a horse in the races each side of Final Touch and I said after the one before: I'm going to be late into the birdcage in the group one, because I just can't get it done.
"I said: I'm 62 and I ain't running with the saddle. So they found me a golf cart and eventually we got it done, but it wasn't easy.
"They forced me into the Telegraph presentation even when I told them I didn't have time."
The favourite Burgundy enjoyed a beautiful run behind the leaders, but when Opie Bosson aimed him towards the better footing in the middle of the track, the gaps were not there and he had to go back inside, probably into the slightly slower ground.
You cannot take anything away from Final Touch who, as a mare, carried 3kg more than Burgundy, but the entire lost few points with his effort.
Down the outside came well-fancied Xanadu, who pressed the winner hard in the closing 100m.