Victory today by Xanadu or Guiseppina will add substantially to their broodmare value.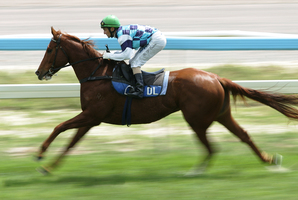 Racing at the top end is a very serious business.
There is a tongue-in-cheek line that thoroughbred racing is full of million-dollar duds and loose change giants.
An element of truth, but hardly literally true.
Those who make it to the top are worth telephone numbers.
Levity is not expected, but it's the only fallback the likes of co-trainers Ken Kelso and Steven Ramsay have taking million-dollar mares Xanadu and Guiseppina into today's group one $250,000 Telegraph at Trentham.
Today's winning stake is less than $150,000, but make no mistake - victory by either mare will add something like a further million dollars to their broodmare value.
That's pressure.
Kelso and Ramsay have been texting each other with teases about possible Trentham track conditions all week to help break the tension.
Kelso claims the high ground - with the Trentham track likely to be at least somewhat slightly affected by midweek rain, Xanadu is going to be better suited than perhaps Guiseppina.
But Ramsay refuses to concede on the text battle.
"I've had Ken worried a couple of times, make no mistake," he says.
John Wheeler, two weeks ago mentioned in the Queen's Honours for his horse racing contribution, has always been a larrikin, only too willing to engage in some tension busting at critical moments.
He recalls walking to the saddling stalls when Rough Habit ran in the Japan Cup.
At that time the Japan Cup was the world's richest horse race - it's now second only to the Dubai Cup.
Rough Habit was running for something like a $2 million winning stake in a $3 million race.
"I was walking alongside English trainer William Hastings-Bass and I said: 'If I beat you home with Rough Habit you have to bow to me twice in the birdcage in front of the crowd [about 120,000]'.
"He said: 'No, I won't do that, but you can forever after call me Willy'."
That was quite a big call because Hastings-Bass was not only known as William Edward Robin Hood Hastings-Bass and the 17th Earl of Huntingdon, he was also at the time trainer to Queen Elizabeth.
"I can't remember what he had but Roughie beat it home.
"He sought me out later and said: 'How can you possibly make jokes when you're saddling up for the world's richest race'.
"I said, you have to do something to crack the ice."
Wheeler and Australia's Dr Geoff Chapman became great mates.
The Doc gave up his medical practice to become a horse trainer and was one of the industry's greatest hard cases.
Very few things were off limits before the Doc gave horses away and went back to medicine, including he and Wheeler hosing each other's Queensland motel units with fire hoses if the opportunity presented.
"The Doc and I have been friends since we first met and we still meet up for lunch in Queensland when we can.
"We faced each other in any number of group one races in Australia."
It's only when that girth on the saddle gets its final tightening that the tension returns for trainers. That will happen about 5.25pm today.
•Just about every horse has been mentioned in the Berkett Telegraph, but this column is prepared to stick with those already credentialled in the top grades.
They are Xanadu (No9, R9), Guiseppina (No8), Durham Town (No2) and Burgundy (No10).
Obviously we'd love to have known yesterday exactly what track conditions would be for this race, but a broad brush stroke tells you Xanadu will handle whatever surface is thrown up at her.
Guiseppina would prefer it close to good and Burgundy and Durham Town won't mind.
What a victory it would be for Durham Town if he got over the line after last year's Telegraph incident when he was forced into the running rail, catapulting his rider Vinnie Colgan to the inside of the track.