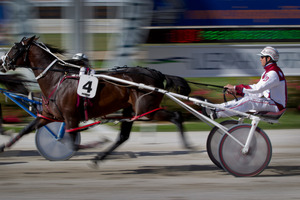 Dexter Dunn does not mind a change in King Kenny's plans at all.
The country's leading reinsman is heading south from Canterbury to Forbury Park tonight for eight drives, barring scratchings, and the talented trotter in race 5 looks to be one of his best.
The Pegasus Spur-One Under Kenny gelding was back to his best at Cromwell on Sunday, ending a 20-month winning drought, and Dunn said Forbury Park was a stepping stone to an assignment for King Kenny next week.
"He went super [at Cromwell]," Dunn said.
"He felt really good and did it pretty easy.
"He wasn't going to go to this meeting, but he's in there to hopefully win and go to a C3 [three wins or more trot] at Northern Southland."
It is understandable why the 3200m trot at Ascot Park on January 17 is now on King Kenny's agenda, as it carries a $20,000 stake.
Dunn's drive in the other trotting race of the night, Experiment (race 1), will be helped by a change in starting style.
"I've driven it in the last two starts in stands and he's not quite getting the starts quite right yet, so the mobile should help," Dunn said.
Central Seven (race 6) stands out as the best of the pacers that Dunn will sit behind tonight. The 3-year-old P-Forty-Seven gelding failed to get clear room in time to run down Den Helder at Cromwell on Sunday.
Dunn also gave good chances to Donegal Starella (race 2) and For The Ladies (race 8), although For The Ladies will probably show a lack of gate speed again - even from barrier two.
"She's a good chance in that field. She's been going good races, she's got a good draw but she's not that good out of the gate."
Of the rest, Dunn thought VC Dell (race 7) and Awesome Prospect (race 9) were place chances, while he will be driving Bryleigh Star (race 3) for a bit of luck.