With $750,000 of races in the next two months, Purdon wants to be sure there's nothing major to worry about.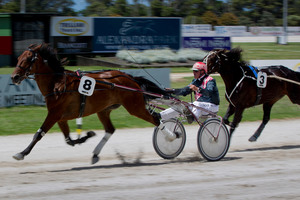 Champion trotter I Can Doosit is set to undergo an extensive veterinary examination today as trainer Mark Purdon struggles to pinpoint exactly what is troubling the great horse.
I Can Doosit's 18-race winning streak ended at Cambridge on Christmas Eve when he paced and then galloped, while a week later he was clearly not at his peak when beaten by Stig at Alexandra Park.
Purdon originally thought I Can Doosit was jarred up in his front hooves but is now starting to doubt that is the only problem.
"The way he trotted at speed in the National Trot he actually felt like he has a little soreness issue in behind," Purdon told the Herald.
"And it is something that I could only really feel at full speed.
"He warms up perfectly fine but when he is at top speed there is something not quite right."
So I Can Doosit will head to a Waikato veterinary clinic today for cyntography, during which dye is injected into the body to help highlight problem areas.
Purdon is relatively confident whatever is troubling the big horse is not a major problem but with $750,000 of races in the next two months, he wants to be sure.
"He will have the tests tomorrow and then be at the clinic for two days.
"After that hopefully we will know more and be able to treat an exact problem."
Purdon is still confident I Can Doosit will be on a plane to Melbourne next week but has already ruled out a start in the Australasian Trotting Champs on February 2.
"He might race in Melbourne but I wanted him with me when I am travelling over there so I can work on him and the place we are staying at has a pool he can swim in so it is the best thing for him.
"And then we will aim him at the big races in Sydney and Melbourne in March."
Purdon had a rare poor night at the office at Cambridge last Friday when he didn't train a winner and admits he was disappointed in Smolda's unplaced effort in the Flying Mile.
"He has done that once before to me, at Alexandra Park last season before the Jewels, so I am hoping he will improve for this week."
Smolda will take on his conqueror from last Friday, Gold Ace, in the Futurity at Cambridge this Friday.
Then he will join Purdon's assault on the Victorian carnivals.
He and I Can Doosit are likely to be joined by Auckland Reactor and Highview Tommy, who will be aimed at the Ballarat and Hunter Cups.
Arden Rooney will also head to Melbourne for the Victoria Derby, which is also being targeted by Kiwi pacers Ohoka Punter and Bit Of A Legend.
And stable newcomer Dr Hook will take his place in the Australasian Trotting Champs.
Purdon will also send a powerful team to Sydney in two weeks, with Major Mark, O Baby and Minnie Moose going first in the care of Purdon's partner Natalie Rasmussen. They will then be joined by Tatijana Bromac and Rozelski after they race at Addington on February 1.
That could see him have as many as 12 horses racing at Menangle's mammoth March 3 meeting, which is shaping as one of the biggest ever held in the Southern Hemisphere, with seven group one races on one day.
Meanwhile, Aussie hero I'm Themightyquinn has lost favouritism for the Interdominion, the centrepiece of that meeting, after a shock loss in Perth on Friday.
He was beaten for the first time in his last 20 Gloucester Park starts and trainer Gary Hall senior has said the Interdominion trip is no certainty.
That has seen him replaced at the head of that market by dual New Zealand Cup winner Terror To Love, who resumes at Invercargill next week.
Problems for champ
* Trainer Mark Purdon still has no definite answer to what is troubling I Can Doosit.
* The champion trotter will undergo an extensive veterinary examination today.
* Purdon is about to launch powerful assaults on both Sydney and Melbourne's biggest races.
* Terror To Love is the new Interdominion favourite.