Ruakaka horsewoman may finally have the champion she has been waiting for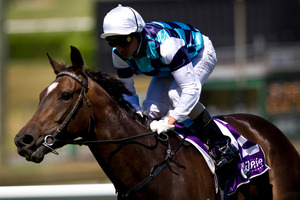 Even seasoned horse people can get carried away with the emotion of winning on a big day.
So when co-trainer Donna Logan responded to the question, "What's the best last horse you had before unbeaten Habibi?" you took it on board and thought you'd give it a five-minute break.
Fair question after Habibi made the colts and geldings look second rate in yesterday's $100,000 The Sound Championship Stakes at Ellerslie.
Five from five is not something horses achieve every raceday.
So, five minutes later the same question was posed again - surely a bit of adrenaline had dissipated.
Indirect answer. "I'll put it this way, I haven't had my best horse yet, this horse just might be it.
"I haven't had my Bonecrusher, Rough Habit or Sunline, I'm about due.
"I'm getting to the old-age bracket so I might be due one in that league."
Maybe there had been no dissipation.
To be fair to Donna Logan, few horses these days win their first five races. Almost none can do it in stakes class, so that makes Habibi something pretty special.
Even more special is the way the filly keeps winning.
She looked as though she had just joined in winning the Eight Carat on Boxing Day and was no less stylish bursting away from the opposition after sitting in a comfortable one-one to just before the home bend.
Donna Logan's potential rating might not be seen as too far out in left field if Habibi beats all comers in the Oaks/Derby and Avondale Guineas and remains unbeaten.
"Who knows how good this filly might be?" said co-trainer Dean Logan. Certainly it's impossible to imagine any of those who finished behind Habibi yesterday beating her barring bad luck.

• "Don't die wondering" was Ken Kelso's instruction to winning rider Vinny Colgan before Fix's desperately close $100,000 New Zealand Bloodstock Royal Stakes victory.
To which Colgan replied: "Do you mind if I lead?"
The awkward No11 barrier draw at the 2000m starting point had to be taken out of play.
Colgan booted Fix hard for the first 200m and led. The question then remained - how much petrol had that used? Two minutes later the answer was, not quite too much.
Fix showed she has heart and guts almost to spare in keeping the improving Kidwelly out in a desperate battle from the 250m.
At the 150m, Fix was $4 and Kidwelly $1.20, but that was leaving out the sheer determination of the favourite.
"I told Vinny to ride her like she's the best filly in the race, which she is," said Kelso.
"This filly might be a real bitch to handle at home, but she's a darling on raceday.
"All good fillies are like that."
Until yesterday the Kelso team had not been certain the 2000m of the Royal Stakes was within Fix's scope.
Now they might try even further.
"She's in the Filly Of The Year series so she's probably got to go to the 2100m of the Sir Tristram Fillies Classic at Te Rapa."
Fix took herself to 19 points with yesterday's win, 4.5 points ahead of Roll Out The Carpet with yesterday's third-placed filly, Soriano, on 12.
Two weeks before the Te Rapa race there is the Desert Gold Stakes at Trentham. Fix's programme will be decided after seeing how she comes through yesterday's effort.