Trainer changed riding plans to ensure his filly won Ellerslie feature.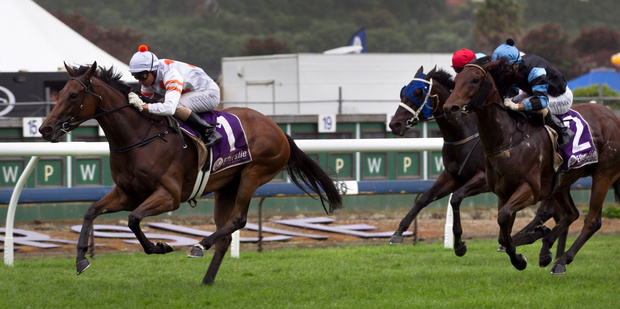 Co-trainer Ken Kelso thanked his attention to detail for Fix's victory in yesterday's $100,000 Cambridge Stud Eight Carat Classic.
On the way to the races Kelso decided he wanted rider Vinny Colgan to ride the well-fancied Fix at the back of the field.
But after watching two lead-up races, Kelso became well aware that the rain-affected conditions had created an on-speed bias.
He decided on opposite tactics.
"Thankfully, we changed things because I had earlier been determined to have her coming from the back of the field.
"That would have been suicide because anything in the second half of the field can't win."
Fix tracked the leaders and finished powerfully to claim the leader The Darling One and win attractively.
Owner Gary Harding, best know of course for his greyhound ownership, thanked Sir Patrick Hogan for his sponsorship and wished Fix would one day end up with even a percentage of the kudos Eight Carat gained in the thoroughbred breeding industry.
Kelso said he was unsure if he will back Fix up in the New Zealand Bloodstock Royal Stakes on New Year's Day.
"After winning this I haven't ruled that race out. I hadn't intended running and there is a strong chance I won't, but it's still there as an option."
Favourite Brave Centaur pulled punters through despite the wet conditions. The instructions trainer Lance Noble gave rider Opie Bosson helped New Zealand's in-form jockey make the decision that was probably a given anyway.
"I don't want him involved in all the backwash," Noble told Bosson.
Leading was the best place to be yesterday and Bosson made his intentions obvious as soon as the field cleared the barriers. The inside horses initially held him out. "He started over-racing as a result, but Opie being Opie, managed to get him back under him."
Brave Centaur did not look comfortable late in the race, but had the class to hold out the opposition.