Trainer maintained her faith after disappointing Trentham effort.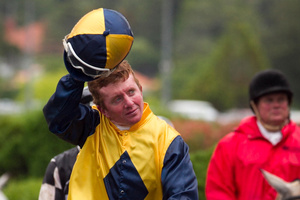 Linda Laing was very circumspect making her acceptance speech after Veyron scored an astonishing win in the $200,000 Zabeel Classic at Ellerslie.
"That was a fabulous effort," then paused, "by Veyron," she continued.
Had Laing not been racing's most humble participant, she could easily have said her own part of the victory had been fabulous.
Because it was.
Unlike most, the trainer did not lose one second of faith in Veyron after he turned in his career-worst run when a distant fifth in the Captain Cook Stakes at Trentham.
She refused to accept the verdict of many that Rogan Norvall being caught three wide in that Trentham race was the cause of the defeat.
"He had an off day," was her solid resolve.
She was right.
The Veyron that showed up at Ellerslie yesterday with the Linda Laing magic showing in his chestnut coat made certain that only the opposition were about to have an "off" day yesterday.
In history there may have been horses travelling as well as Veyron was on the home corner yesterday - but almost certainly never in a group one race.
Riding on the long rein that obviously suits Veyron, Norvall held up the field for the second half of the race to the point where you almost wondered if he had overplayed that hand.
Commentator George Simon posed the question at the 300m: "Has Rogan left it too late [to release the brakes]".
He wasn't the only one thinking that. The question was answered within seconds.
When Norvall finally said "go", the pair were four lengths clear in a flash.
Linda Laing was understandably emotional.
"We just missed in this race last year [to Shez Sinsational] and we've been planning this race for a long time.
"It's the race I've always wanted to win."
She paid compliments to the race sponsor Sir Patrick Hogan. "We've had a long association with the Hogan family."
Linda Laing is a careful planner, in the same vein as Allan Sharrock, who prepares yesterday's favourite Shez Sinsational.
She has resisted every temptation to chase the big money in Australia with a horse she has always said is too immature.
Now, she says, he is not. She has always said this season would be Veyron's and yesterday's win confirmed that. Veyron will take on the Waikato Draught Sprint then head to Sydney's rich autumn carnival.
Runner up was Shez Sinsational, who virtually had her chances extremely limited by settling last early, where no winner all day had been able to come from.
Sharrock was not very taken with Opie Bosson's ride.
Bosson said he felt his chances were hampered by the pattern of racing, which was always going to suit the front-running Veyron.
"Veyron had the race handed to him, we were never going to be able to beat him.
"Whatever I'd done I'd have been wrong.
"If I'd taken off earlier she would have run out of petrol."