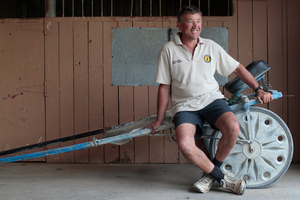 Punters should be careful when Kiwi Ideal makes his long-awaited return to the track at Alexandra Park tonight.
While the winter star would most likely thrash his rivals with a peak effort in race eight, he might not be ready to produce one.
Kiwi Ideal looked genuinely top class when winning his past four races of last season, prompting trainer Steven Reid to even consider a Perth campaign to start this season.
Reid changed his mind but was thrilled with the freegoer's progress until about three weeks ago, when his stable was struck by a virus.
That saw Kiwi Ideal trial below his best at Alexandra Park and driver Tony Herlihy says that could be a warning for punters tonight.
"I know Steven was thrilled with him before that trial but a lot of his horses got a little crook with that virus. So while he might be back to close to his best, winning a race fresh-up in this grade at Alexandra Park is hard enough when you are really spot on, let alone bouncing back from a small bug."
Herlihy says with plenty of gate speed drawn inside Kiwi Ideal he could be forced to look for cover early and then have his run dictated to him.
"He is a good horse but it could end up being one of those races."
While Herlihy and Reid join forces with Kiwi Ideal, they will go head to head with two of the favourites in the main trot, race 11.
Herlihy trains and drives likely favourite Irish Whisper, while Reid has Commander Galleon.
Herlihy drove Commander Galleon when he was a solid third last Friday so has a good form reference on the pair. "He was also coming off having that little bug and should improve with that run.
"But my horse is pretty good at his best and would be hard for Commander Galleon to beat, even if he has improved."
Irish Whisper looks a genuine open-class trotter in waiting but mental immaturity stalled the end of his last campaign.
If he behaves himself he can overcome his 20m handicap but punters wouldn't want to be taking silly odds.
The night's other features sees the last chance for the fillies to qualify for the $170,000 Sires' Stakes Final on December 31, with many of them struggling for peak form.
The best pacing filly at tonight's meeting is Delightful Christian though, with the Harness Jewels winner ineligible for the heat because she has already won one. She will take on older mares in race 10, in which she faces an awkward draw.
The ATC will honour champion driver Dexter Dunn's record-breaking 1000th-career victory two weeks ago, with a presentation and give-aways after race six tonight.