He might have won the Interdominion on the track but runnerup appears on trophy.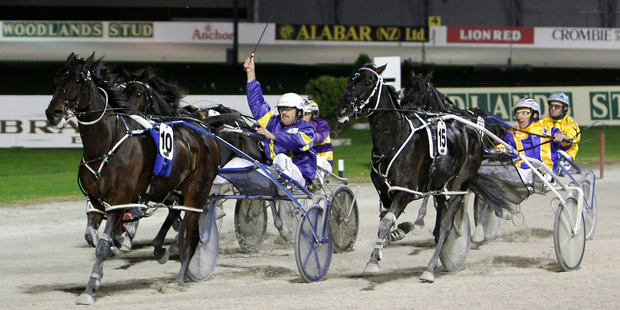 If a horse wins our greatest race and nobody sees it, did it really happen?
That is sort of what happened yesterday, when a law clerk in Canterbury filed the final result of the 2011 Interdominion at Alexandra Park.
In case you care, and you probably don't, Themightyquinn (as he is known in New Zealand) won the final.
He didn't on the actual race night itself, at Alexandra Park on April 8, 2011.
That night Victorian warhorse Smoken Up hit the line first in what felt like a truly great racing moment.
Three true racing heroes with earnings over $11 million completed the trifecta: Smoken Up, Themightyquinn and Blacks A Fake.
It was a magic end to a series transferred from Christchurch to Auckland because of the February 22 earthquakes, a series run in the spirit of co-operation and headlined by some special horses.
The big three aside, Monkey King, I Can Doosit and Mr Feelgood were also part of the series.
But so too, as it turned out, was DMSO (dimethyl sulfoxide).
Smoken Up's his post-race swab was found to contain unacceptable levels of DMSO.
His trainer Lance Justice swears he never uses the drug and a subsequent Judicial Control Authority panel believed him but the DMSO was in Smoken Up's system.
So, with not a lot of leeway to move on that particular point, the JCA disqualified Smoken Up and Themightyquinn was promoted to first.
As an aside, Blacks A Fake was promoted to second, meaning he finished his career having run in six Interdom finals for four wins and two seconds.
But back to the Smoken Up mess.
His connections appealed the decision, as you would if you believed you were innocent and the win was worth a tasty little $400,000.
They lost the appeal and then sought a judicial review in the High Court.
Which brings us to yesterday, when the High Court decision found there was no reason to have the disqualification quashed and handed the case back to the JCA.
Which means Smoken Up is going to stay disqualified.
The High Court decision handed down is roughly as long as the Bible so unless you have a really boring Christmas planned and want to read the whole thing, here is what it says about the disqualification:
"While that may seem harsh both on the owner and the trainer, there is significant public and competitor interest in securing drug free horse racing," states the decision. And later:
"I would not have been inclined to quash disqualification of the horse.
"It appears to me that there was clear and robust evidence to show that the horse was presented with non compliant levels of DSMO on race day.
"While nothing I have seen suggests intentional breach by Mr Justice, my preference would have been to refer the matter back to the tribunal for reconsideration."
The Smoken Up team could possibly take their case further but they are getting into legal miracle territory now.
So that might be it. The 2011 Interdominion Final may be over, one year, eight months and nine days after it started.
Of course, those who backed Smoken Up for a win got paid out and those who backed Themightyquinn did not.
Which is all most punters really care about.
Maybe some inspired racing administrator in West Australia can organise a presentation ceremony where Themightyquinn's connections get their trophy and the horse gets to have his Valerie Adams moment.
But probably not.
Because whether you think the right decision in this most high-profile of drug cases has been made, virtually nobody cares anymore.
Drug regulations are crucially important to racing, and appeals and legal challenges deserve the appropriate amount of consideration, which is a lengthy process.
But in an industry based on speed, glamour, action and adrenalin, victory in the court room remains racing's ultimate letdown.
Because to most racing fans, especially those at Alexandra Park that April night, Themightyquinn's win never happened.