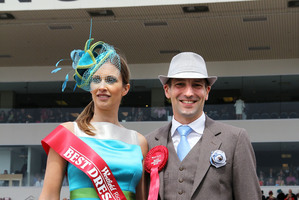 Cup day's Best Dressed Woman will auction off her prize-winning dress to raise money for two children who lost their mother in the February 2011 earthquake.
Andrea Bryant, of Merivale, had always dreamed of entering the fashion competition at Addington.
This year the landscape architect and mother-of-two's self-designed outfit took out first prize.
After a cold Monday, punters were pleased the weather gods turned on a sunny race day at Addington.
Police said there was a big turn out but little trouble.
Senior Sergeant Rob Patterson said everyone was well behaved and enjoying themselves.
He said they had made six arrests for minor disorderly behaviour.
"We've had a couple who have been held in the detox area to sober up, but nothing serious."
A St John spokesman agreed: "Most people are keen to enjoy themselves and while some have over indulged in alcohol we haven't seen a lot of that."
St John treated more than 200 people, mainly for minor issues such as cuts, scrapes, sprained ankles, and requests for sunblock and plasters - particularly popular among young women wearing high heels.
Two people were taken to hospital, both for non-alcohol related issues. One patient had cardiac issues and one was a suspected stroke.
The Best Dressed Woman only ended up donning the dress she had designed herself at the last minute after her model called in with a 24-hour bug yesterday morning.
"I didn't make the hair appointment so we just whipped it up, sprayed on the tan, and pulled it all together because I wanted the dress to be here on the day."
Mrs Bryant's 1950's inspired dress was created in summer colours of turquoise, white and green to reflect Cup Day kicking off the warmest season of the year, she said.
"We were trying to have a little bit of an equestrian twist on it, so some of the fabric's got that chequered look."
The dress will now be auctioned off and the money donated to the children of Kelly Maynard, who was killed in the Pyne Gould Corporation building when the February 22 quake struck.
Mrs Bryant said she did not know the children personally, but knew of them through a family friend.
She said Cup Day was part of Christchurch getting back on its feet after the stress of the earthquakes.
"It's a bit of a fun time, we need to let our hair down."
Best Dressed Man winner, Gareth Hide, of Templeton, agreed.
"It gets everyone up and out and feeling a bit more positive about everything that's going on."
Mr Hide was in High St when the February 22 earthquake hit.
"Being a draughtsman I sort of know how bad buildings work so I was expecting it all to turn to custard. But it sort of stopped shaking and I was standing in a cloud of dust and everyone was all good."
He went for a green option with his brown three-piece suit - bought for him from an op-shop by his partner.
"She dresses me up every year and I come out and strut my stuff."
The finishing touch was a special rosette.
"That was handcrafted by myself, late-night quick sewing. Don't tell anyone but the blue bits are actually the bottom part of my tie. We're allowed to be green you know."
The sold out Lindauer lawn and roof were packed yesterday with dapper suits and eye-catching dresses.
Peplums were out in force among the ladies and splashes of neon popped among the traditional race day brights.
This season's popular floral prints made an appearance with many women opting for flower-like headpieces over the traditional fascinators or hats.
Auckland celebrities Sally and Jamie Ridge mingled with last year's judge Colin Mathura-Jeffree who appeared again this year to present the fashion winners with their rosettes and sashes.
The Ridges recently appeared in their own self-titled reality television show on TV3.