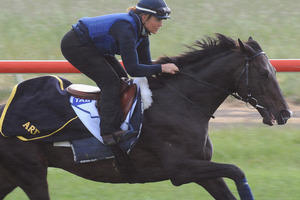 Here is a list of the past 13 Melbourne Cups winners.
Dunaden (54.5kg), Americain (54.5kg), Shocking (51kg), Viewed (53kg), Efficient (54.5kg), Delta Blues (56kg), Makybe Diva (58kg), Makybe Diva (55.5kg), Makybe Diva (51kg), Media Puzzle (52kg), Ethereal (52kg), Brew (49kg) and Jezabeel (51kg).
Notice a theme there?
The weights.
Makybe Diva was an out-and-out champion, so her 58kg in her third consecutive Melbourne Cup can pretty much be divorced from that list.
If you do that, the average winning weight is around 54kg.
Remember that as you rush in to back Dunaden (59kg) and Americain (58kg) in today's A$6 million Emirates Melbourne Cup.
This is not to say they can't win. It simply points out the record book they have to jump over on the way to the winning post.
Despite that, Dunaden and Americain are almost certainly going go around as the two favourites in the world's most famous extreme distance staying event.
As Cup fever embraces Australasia, we all get carried away with current form and favourite names like Dunaden and Americain, winners of the past two Melbourne Cups, but the facts are that the last four topweights, Americain (last year), Shocking, Viewed and Septimus, were all soundly beaten. Whether Dunaden and Americain can do better today by upturning the force of science and evidence depends on who you talk to.
Francesca Cumani, whose father Luca will produce two of the biggest hurdles to the topweights in Mount Athos and My Quest For Peace, makes a sound case that the two topweights are up against it.
"Since Think Big won in 1975 with 58.5kg, only the mighty mare Makybe Diva has won with 58kg," she pointed out at Sunday's international press conference at Werribee.
"It is generally accepted that over 3200m, 1kg equates to two horse lengths. That means if the race was run at level weights, Dunaden would be expected to be 10 lengths better than Mount Athos and 11 lengths better than My Quest For Peace.
"Last year there was a nose between Dunaden and Red Cadeaux and this time Red Cadeaux will meet the other horse 2.5kg better.
"That means he has to be a five lengths better horse this time."
Dunaden's astute French trainer Mikel Delzangles believes that's exactly the measure of improvement in his horse from 12 months ago.
And watching Dunaden's stunning Caulfield Cup-winning performance, that's a difficult argument to counter.
"I have never seen a horse that has improved so dramatically between the ages of five and six as Dunaden," says Delzangles.
That puts Dunaden somewhere near the frame. He will be in the finish somewhere.
The Americain camp believe the big black stallion is in career best form for what will almost certainly be his last raceday appearance.
A year ago he was beaten as much by a poor Gerald Mosse ride as he was by the trio that finished in front of him. Mosse looked similarly asleep when Americain was fourth in the Caulfield Cup and has been replaced by Damien Oliver.
The predicted thunderstorms and rain for Melbourne today may be the key to help him with his 58kg. He loves dead to slow going and is likely to get conditions to suit.