Luca Cumani says he has brought the right pair to win his first Melbourne Cup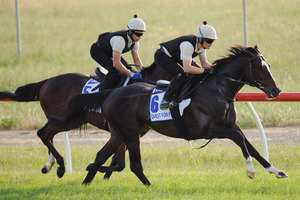 Trainer Luca Cumani has a warning for his rivals in today's A$6 million Emirates Melbourne Cup.
And it's not only his famous desire to one day win a Melbourne Cup.
He says his two runners today, Mount Athos and My Quest For Peace, are the two best Cup horses he has brought to Australia since the first trip six years ago.
Given Cumani has gone within a whisker of winning with Bauer, who finished second to Viewed, and Purple Moon, who chased home Efficient in 2007, that's worth taking notice of.
After Purple Moon was beaten, Cumani made no secret of the fact he had carefully planned the horse's one-year lead up to coming to Melbourne to get under the handicapper's guard.
Daughter Francesca said pretty much the same plan has been taken with Mount Athos and My Quest For Peace.
Luca Cumani has had Mount Athos for only three starts and the horse has won them all.
"Each has been in relatively minor races, but he has been exceptionally impressive each time," said Francesca Cumani.
"He has a devastating turn of foot at the end of his races."
At 54kg, Mount Athos has a light weight, far too light, according to rival Dermot Weld, who has Galileo's Choice engaged.
Australian handicapper Greg Carpenter defended the impost by pointing to the type of races the horse won in England.
Francesca: "Greg Carpenter came to me the other day and said: 'This horse [Mount Athos] isn't going to make a fool of me is he?'
"I said: 'I hope so'."
Francesca believes the odds differential between Mount Athos and My Quest For Peace ($8 and $26) is wrong.
"There is not that much between them."
Weld can hardly accuse Luca Cumani of protecting the Mount Athos handicap back home - Weld used the same tactics to devastating effect when he became the first European trainer to win the Cup with Vintage Crop in 1993.
Weld won a hurdle race with Vintage Crop just before handicaps were declared for that Cup.
The Irishman had planned to bring today's Cup runner Galileo's Choice out last year, but the horse didn't match one of the qualifying clauses and Weld did not want to risk running the horse in Australia before the Cup to meet that clause.
He hurdled Galileo's Choice during the Northern Hemisphere winter, winning at Fairyhouse on February 15.
Subsequently, he has won both stakes races he has contested at Leopardstown.
Luca Cumani doesn't waste words, but neither does he dodge talking to the media when asked.
His summation: "I thought Purple Moon was a winner. Okay, he was beaten, albeit narrowly. These two horses are at least as good as him and probably better.
"But then so is the field better.
"We'll see."
Mike Dillon's Cup tips
* 1 Mount Athos 2 My Quest For Peace 3 Americain 4 Dunaden
* Best value runners: Galileo's Choice and Maluckyday