Finally, a little luck goes Aspinal's way after she salutes in Rotorua feature.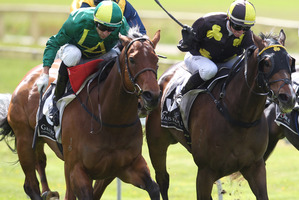 The title of professional placegetter - only minutes away from being presented - was lost forever when Aspinal dogged her way to victory in Saturday's $50,000 Lion Red Plate at Rotorua.
The luckless mare has got herself into trouble by tending to get back in her races, but on Saturday a small field allowed her to be within two and three lengths of the leaders.
This time luck was with Aspinal and against Veyron, who must have won but for being parked three wide without cover from an outside barrier.
Despite her ill fortune Aspinal is creeping towards earnings of a quarter of a million dollars for trainers Tony Pike and Mark Donoghue.
Demophon just edged past Veyron for second in a tight, three-way finish.
It was a big day for Leith Innes when two races after Aspinal's victory he rode Noble Warrior to win the other feature, the $70,000 Agrodome Rotorua Plate.
Noble Warrior has always had plenty of ability, but needed to mature his brain to produce it. The past six months have seen him finally reach his potential as a 6-year-old.
"He used to pull up in his races," said part owner and trainer Grant Show, a structural engineer who spends at least two months each year working on projects in Papua New Guinea and Vanuatu.
"Tana [wife and training partner] and I work him differently now - we do almost no fast work with him and it suits him."
Noble Warrior is in the running for New Zealand's most versatile horse.
He will now go to the New Zealand Cup at Riccarton, switch coasts and attack the Kumara Nuggets then possibly race at Trentham. A Brisbane winter campaign is also in the planning.
"He's won from Hokitika to Ruakaka and over 1200m to 2200m on fast, slow and heavy, so not much worries him."