Despite nearly falling at the start boom youngster beats Guineas rivals.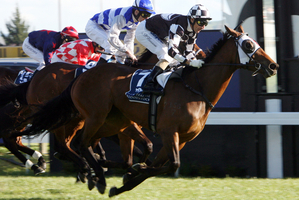 When a pale and bewildered Leith Innes finally stopped shaking his head, he said quietly: "That's the best I've ridden."
That was the ultimate compliment after Sacred Falls turned in an astonishing performance to win Saturday's Hawkes Bay Guineas.
Sacred Falls came from the dead after nearly falling as the start was made.
To then come from a clear last in a fast-run 1400m - 1:22.09 - was remarkable in the extreme.
In declaring the colt the best he has thrown his leg across, Innes was putting Saturday's winner ahead of the likes of Starcraft, Wahid ...
The reason Innes was pale and shaking on dismounting in the birdcage was the fright he got when Sacred Halls completely lost his footing as he went to jump from the starting stalls.
"Go and watch it in the stipes room," Innes encouraged. You could quickly see why the northern jockey was keen for everyone to experience the disbelief that had swamped him on an odds-on favourite.
What was going through Innes' mind as Sacred Falls crossed his front legs, then lost his back legs and stumbled in front again?
"Umm, this is not going to plan."
That it eventually did go to plan presented to everyone one of the great 3-year-old performances of recent decades.
Innes was not the only one shaking his head. No one could believe what they had seen - it actually caused most to watch the full replay.
Almost unbelievably, Sacred Falls looked fresh and almost ready to go again on being unsaddled.
Co-trainer Tony Pike had reason to look pleased immediately after the race, but he was in no better shape that Leith Innes. Pike had a choice of five yearlings to sort out one from the team owned by Raffles Farm and picked Sacred Falls.
The Raffles horses are managed in New Zealand by Bruce Sherwin.
Southern Lord showed he was previously underrated in finishing second and Silverdale came from last on the corner.
•"Oh ye of little faith," became a famous quote from trainer Allan Sharrock after Shez Sinsational won Saturday's $300,000 New Zealand Bloodstock Insurance Spring Classic at Hastings.
Sharrock is one of New Zealand's most astute thoroughbred trainers.
He declared some time ago the Spring Classic was his main mission with his high-class mare and despite an ordinary formline, he held his nerve.
Sharrock was confident Shez Sinsational could go close to winning and the tote price reflected that.
"Despite that, there were a few starting to drop off," said Sharrock, delighted to be proven right.
Sharrock, and his owners, which include his father Bob, have gone through an extremely messy lease arrangement with Shez Sinsational.
The finish of Saturday's group one was suitably exciting.
Guiseppina, who punters had also lost faith in, burst to the front and looked certain to win until Shez Sinsational dashed at them late.
He's Remarkable ran his best race for some time in finishing third and Xanadu did well for fourth.
•It was a great day for good jockeys.
Leith Innes and Opie Bosson rode three winners each of the nine races.
Bosson got home in the big one, Shez Sinsational in the New Zealand Bloodstock Spring Classic and was particularly impressed with his first ride on Hidden Asset.
"I didn't realise how good this horse was," said Bosson after Hidden Asset came from last on the home turn in a sit-and-sprint 2000m.
Hidden Asset won the group two Championship Stakes at Ellerslie as a 3-year-old and was spelled after running in Jimmy Choux's Derby.
On his return to racing he developed a hole in a suspensory ligament and spent 18 months sidelined.
His first middle distance on the comeback produced the right environment and he proved he had lost nothing in terms of ability. Speaking from Melbourne, trainer Shaune Ritchie said: "Now we can plan a proper campaign. Races like the Counties Cup and City of Auckland Cup are targets for him."