Trainer plans for southern sojourn after Warhorse wins Ellerslie 3YO feature.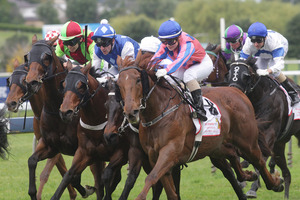 If you saw Warhorse blow up across the back after winning Saturday's Bonecrusher Stakes, take little notice.
Trainer Jason Bridgman says the talented colt always does.
That said, he reckons it's wrong to believe last year's champion juvenile will not improve with his win in that stakes race. "He's odd like that, He can work hard - he had three hitouts this week - and still give the impression he's short [of fitness]."
An additional degree of fitness never goes astray, but it may not be critical until the grand finals because Warhorse had to come across the heels of a wall of horses in the home straight to win and would almost certainly have got the money by several lengths with a clear home-straight passage.
He has clearly gone on from the champion 2-year-old of last season. He looks one of those that has gone from juvenile class to 3-year-old glory, which is not always the case.
"He had a reasonable puff after the race, but he's been a fair way off his total best."
The 2000 Guineas at Riccarton on November 10 is the obvious target for Warhorse and Bridgman is planning things carefully in making the trip to the South Island.
"The No1 choice is the Wellington Guineas because you're halfway there.
"The Sarten Memorial [at Te Rapa] is an option, but if you look back through the record the horses that have won that and been successful at Riccarton have been the dominant ones.
"Trentham looks best at this stage."
There is no question Misstrum's inside barrier helped her win Saturdays Soliloquy Stakes, but that also was not a measure of her class.
Trainer Roger James was extremely aware of the classy filly having missed a barrier trial because of cancellations, and would have been happy if she had finished close to the placegetters on Saturday.
The inside barrier gave Misstrum the run of the race and under a hard ride, she ground her way to victory.
James accepts he now has to lift the filly towards Riccarton.
The Avondale Jockey Club returns to racing today. It's a low-key approach to the revival, after a couple of years, of what was only recently one of the country's major racing clubs.
With the current support it should thrive.