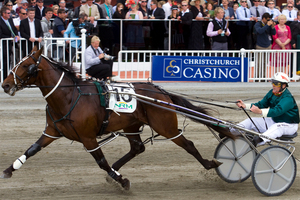 An unusual winter campaign should give Sir Lincoln a winning edge in tonight's $25,000 Spring Cup at Alexandra Park.
The first open-class pace of the northern season is a stepping stone to the New Zealand Cup for Sir Lincoln, Pembrook Benny and, potentially, Jarcullembra, with that trio standing out over their rivals.
However, Sir Lincoln goes into the 2200m standing-start with a superior level of fitness, thanks to a decision trainer Ray Green made last autumn.
Green realised if he gave the Auckland Cup winner a decent winter spell he would struggle to get the weight off him, especially now he is a 6-year-old stallion.
So after a luckless Sydney campaign in April, Sir Lincoln raced once in May, twice in June and once in July.
That kept him in steady work all winter and Green is adamant that will pay dividends tonight.
"It has to help," Green told the Herald.
"I have seen some of his rivals at the trials recently and they have had to have easier runs than us because they are still on the way up.
"But our fella has that base fitness already so he is all set to go this week.
"To be honest, as long as nothing goes wrong, I'll be disappointed if he doesn't win."
Tonight's 2200m distance is perfect for Sir Lincoln, who could lay claims to being the best sprinter in New Zealand, but it does come with one concern.
He has yet to prove himself a totally reliable standing-start exponent and if he is even a few lengths slow then he could find himself with a lot of ground to make up on Pembrook Benny.
With both pacers well capable of a 2:44 standing-start 2200m even while fresh, Sir Lincoln can't give his arch-rival too much of a start.
So with that in mind, punters would want around the $2.25 mark to start getting serious with Sir Lincoln.
Betting against him though seems fraught with danger, as Pembrook Benny looks the only serious threat.
The 8-year-old won this race last season and was consistently good at the highest level, suggesting the gap between he and Sir Lincoln is not huge.
With superstar young driver Zac Butcher in the sulky he only needs his usual safe getaway to make life tough for the favourite.
While Jarcullembra and Devil Dodger are good-class acts, well capable of winning a race like this at their peak, it is doubtful they are in that state tonight.
Devil Dodger has struggled with issues for the past year and has been taken along quietly by trainer Brian Hughes, while Jarcullembra is expected to need the run.
He pleased trainer Geoff Small winning what was basically a private workout at Cambridge last Saturday but will not be as screwed down as Sir Lincoln.
Small could dominate race nine though, with Dougie Maguire and Clive Bromac giving him a strong hand.
Dougie Maguire staged a big recovery after an early gallop before being disqualified at Cambridge last start but looks ideally placed from barrier two in the penultimate leg of the $50,000 Pick6.
SPRING TIME
- The $25,000 Spring Cup is the first open-class pace of the northern season.
- Sir Lincoln has the fitness base to justify his favouritism.
- Defending champion Pembrook Benny looks his only danger.