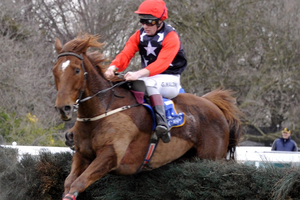 You hear it every year.
It has been too wet and we can't get the horses ready for these big jumping races.
Somehow they get them ready.
That will be the case in the $35,000 The Mad Butcher Pakuranga Hunt Cup at Ellerslie tomorrow, despite the torrential rain Auckland and Waikato have experienced in recent weeks.
Whenever there is a fitness problem there is always Ann Browne and the famous "Browne Hill" - Ann Browne's kindness in lending the unique training facility to those she will eventually meet on raceday as rivals is legendary.
Ann Browne produces last year's appropriately named I'ma Heroine, who against all odds grabbed just about every jumping headline last winter, and also Tom's Myth.
I'ma Heroine has had only the two races since her Great Northern Steeplechase victory last September and might need this race to top her off for an attempt to win a second Northern.
Tom's Myth has won only two races in his 35 starts, but one of those was the Wellington Steeplechase two starts back.
His duck-egg miss last start was on the flat, so the form going into this is good enough to justify favouritism.
Myths And Legends had a couple of misses in flat races before, understandably, failing under a crushing 73.5kg at Te Aroha last start.
His Waikato Steeplechase victory in the early winter was very solid for these major late-season races.
John Wheeler has Tobouggie Nights, Sir Heelan and Izzyosler engaged and says he'd be mildly surprised if one of the trio won.
"For a start Tobouggie Nights has too much weight at 70.5kg, and the other two are relative novices.
"That said, I'd be surprised if all three were not in the first six.
"Izzyosler is is an interesting runner. He's a very brave horse and if he doesn't finish in the first six I won't run him in the Great Northern, but I think he will finish in the six.
"He's a slow horse, but he can keep going."
Grand National winner Cape Kinaveral is a remarkable veteran who would be the most popular winner of a confusing race.
Former southerner Logan James, who is now being trained at Pukekohe, finished only four lengths from Cape Kinaveral at Riccarton and deserves respect.
The Tony Richards Toyota Open Hurdles will serve as a Great Northern Hurdles lead-up and last year's winner of that race, Southern Countess, is the interesting runner.
Her recent outings have been restricted to flat racing and her resuming over fences will be telling.
PAEROA REOPENS
The Waikato Racing Club has an agreement with the owners of the Paeroa racecourse to lease it for 12 months, which means racing and trials will continue at Paeroa under the management of the WRC. A trials meeting has been scheduled to be held at Paeroa next Tuesday.