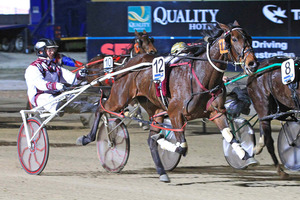 Bit Of A Legend's shock Breeders Crown semi-final gallop cost punters a fortune but it might cost the Kiwi pacer even more.
The Cran Dalgety-trained two-year-old was backed off the boards in the opening semifinal of the annual harness racing series at Melton in Victoria on Friday night but stunned punters by galloping early.
Considering Bit Of A Legend has been the fastest beginner in the juvenile pacing ranks in New Zealand this season, to see him gallop out was extraordinary. And painful for punters.
Not only did he start a $1.60 favourite but had been sensationally backed from $16 to $5 to win next Sunday's A$312,000 final.
He looked every inch a genuine final winning chance by staging a remarkable recovery on Friday night, looping the field to sit parked before being divebombed late by Lennytheshark, who had enjoyed a perfect run back on the fence and probably covered about six lengths less.
The real damage wasn't just done on Friday night, it may come back to haunt Bit Of A Legend in the final.
Stewards declared him ODM (out of draw from mobile starts), or unruly, as it is known in New Zealand.
That means he must start from the outside of the second line in the final, almost certainly giving fellow Kiwi favourite Border Control a start.
"That hurts us," Dalgety told the Herald. "Usually he has such good gate speed that we would have loved to be going into the final with a chance to lead or trail, which is how so many juvenile races are won.
"But we are now going to have to come around them, which is not impossible but harder.
"The really disappointing part is he is so well, that is probably why he galloped in the first place."
Bit Of A Legend being placed ODM aids New Zealand's two other chances in the juvenile male pacing final, Border Control and Franco Nelson.
Border Control was one of four semifinal winners for trainer Mark Purdon on Friday night and with Harness Jewels-winning trotter Cyclone U Bolt, Purdon will take five last-start winners to Super Sunday.
His others will be Fly Like An Eagle, Mr Nickel and Twist And Twirl, who was outstanding on Friday night.
She sat parked in the stronger semi of the 3-year-old pacing fillies' division and looks back to her Pascoes Northern Oaks winning form of March.
Her division is strong, though, and favouritism and, ultimately, the winner will probably depend on the draws, which were to be conducted last night.
The Kiwis on Friday night all pretty much performed up to expectations, with only Cheer The Lady disappointing slightly after leading and trailing in the other 3-year-old fillies' semifinal but struggling into third.
Her driver Zac Butcher copped a two-week suspension for not driving her out but will be allowed to partner her in the final.
With the draws being conducted last night, bookmakers in Australia will open their markets today, with a chance New Zealand-trained horses could be favourites in up to five races.
KIWIS TO FORE
* New Zealand-trained horses dominate semifinals night at the Australasian Breeders Crown.
* Mark Purdon trained four winners.
* The finals of the rich series will be at Melton this Sunday.