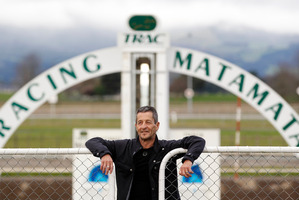 Racing is a sport full of stories rarely told in this country.
So up steps veteran jockey Noel Harris and his boxes full of memories.
His autobiography Harry: The Ride of my Life, written with racing scribe Wally O'Hearn, will be released early next week.
Harris, only the fifth New Zealander to ride 2000 winners, reflects on a career full of triumphs and inevitable lows.
The 57-year-old Harris, our oldest active jockey, chats to the Herald from his Matamata home.
What did you enjoy most about doing the book?
Living old memories, the beautiful times I've had.
The publisher said there aren't a lot of racing books out there. Mike Dillon wrote one on Lisa Cropp, Bill Skelton had a book, and Lance O'Sullivan. But there aren't many.
Is it a warts and all read?
Wally has been a friend for many years so I could trust him. I put everything out there so he could look at it from a different perspective.
You were brutally honest about a time when you got lost on the drink in Australia ...
I had no problem mentioning that. I was feeling the pressures of racing, dealing with life.
You put on a brave face at the time.
Once you bring it out, you actually feel better about yourself.
The greatest jockey you've seen?
[Englishman] Lester Piggott, no doubt about that. He was a magician. My biggest buzz was riding against him in Singapore.
He could shift a horse without moving his hands. It was amazing to see. I was on the favourite once when he was boxed in and I thought, "we'll see how good you are now".
He moved two horses out with his body, and beat me by a short margin. No one else could have done that.
Best horse?
Kingston Town. He was just fantastic ... a freak who could win from anywhere. He should have won the [1982] Melbourne Cup but his jockey admits to this day that he took off too soon and got run down.
The best horse you have ridden?
Poetic Prince was a champion. He could sprint, stay, wet tracks, dry tracks, you could ride him anywhere in a race ... a beautiful natured horse.
Your finest race memory?
Winning the W.S. Cox Plate [1987, Our Poetic Prince]. If I can't win the Melbourne Cup then geez, at least I've got second best. And beating the Aussies is second to none.
Worst moment?
The Caulfield Guineas, a group one race. Our Poetic Prince won in track record time but got disqualified.
It was like the underarm in cricket ... [the] press guys over there still say to me it was so unjust.
There was a bit of interference in the straight but we were never going to get beat.
What swayed it was Geoff Murphy, the trainer of the second horse, had cancer. He was an icon over there. I could understand that side of it ... flying back that night was a lonely experience, though.
Your nickname - Handbrake - is not an overly promising one for a jockey. What's that all about?
People think it means I pulled horses up, didn't ride them on merit. I don't get offended - when you've been around as long as I have you don't let things worry you.
I was always known as a rider of horses that settled back in the field. The nickname came from [jockey] Jimmy Cassidy - he said I would then let go of the handbrake.
How long will you continue?
I've taken out another year's license. I don't want to embarrass myself but I'm happy and enjoying riding. I suppose at this age I'm ready to walk away at any time but I still get so much of a high [riding winners].
Is there one thing in racing you would change?
It's a bit sad to see New Zealand racing at the moment - the stakes, but I don't have an answer.
Quite a few people in the racing game are going overseas.
A lot of owners are manipulating trainers about where to start, what to do. They put big money up, so you can't blame them.
Owners and jockeys - now there's an interesting relationship ... There's an old saying - you can tell an owner his wife is no good and he will still put you on, but if you tell him his horse is no good he will hate you.
I've seen a lot of great friendships busted up through horses.
What do you miss about the old days?
All the jocks and families would go to the races and join up afterwards, have a beer ... that close-knit stuff doesn't happen anymore.
How do you feel about the book?
At first I thought we'd never get to the end of it.
I kept press cuttings from day one ... in quite tidy albums in the beginning but that turned into boxes full of clippings.
I'm very pleased I kept them - at one stage I was going to tip them out.