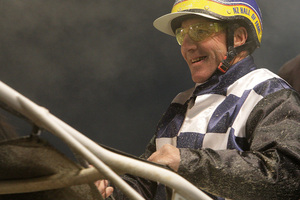 Anne Cooney understands only too well what her injured husband Frank is going through.
Harness racing driver Frank Cooney is recovering in his West Auckland home after a freak accident in a race at Alexandra Park last Friday, which saw him placed in an induced coma over the weekend.
Mrs Cooney said he returned home on Wednesday "because it's quieter than the Intensive Care Unit".
"But he still sleeps a lot and doesn't have much memory since the accident.
"And like a lot of people with head injuries he gets headaches and doesn't like the light in his eyes," she said.
Mrs Cooney is speaking from experience. "I know all about it. I had my first bad spill up at the Kumeu track 30 years ago and that left me with delayed concussion," she said.
"And then about 27 years ago I was driving in a race at Alexandra Park and fell and that left me with a head injury.
"The one upside of that is I can understand what Frank is going through, because unless you've had a head injury it can be a bit hard to comprehend what they go through."
Mr Cooney's latest scan confirms he suffered two brain bleeds in Friday's fall and doctors told him he may not be able to drive horses, or even a car, for up to six months.
"We're hoping that the prognosis improves over time because that is his job and we still have the horses to work, otherwise Frank doesn't get paid," Mrs Cooney said. "Hopefully that's where ACC kicks in, to help us pay for some staff, because as a horse trainer your ACC levies are enormous."
Mr Cooney can't recall the accident but still remembers exactly what each horse in his stable needs to do for work this week and what they did last week.
He's guaranteed a training win at Alexandra Park tonight as his stable star, Let's Elope, is in a one-horse non-tote race, part of qualifying for an elite series in Australia next month.
With Mr Cooney sidelined he has entrusted Let's Elope to champion horseman Barry Purdon for that Australian series.
"Frank was telling me yesterday to get his driving helmet, which he damaged in the accident, fixed so he can go out and drive him," said Mrs Cooney. "But that's just the head injury talking, we know he won't be driving anything for a while."
The Cooneys were due to leave on Sunday for a holiday in Tahiti but instead of chasing the sun they'll be avoiding it until the headaches improve. "But we realise it could have been a lot, lot worse."