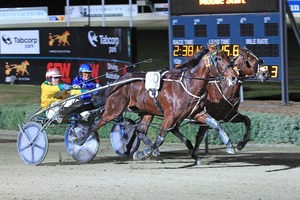 O Baby's third group one win of the season may have come too late to earn her an even more important title.
The Kiwi pacing filly came from near last at the 500m to win the A$75,000 Queensland Oaks in Brisbane on Saturday night, capping another huge weekend for trainer Mark Purdon and partner Natalie Rasmussen.
Purdon trained and Rasmussen drove Best Deal Yet to win the A$30,000 Gold Coast Derby on Friday night, while minutes later Fly Like An Eagle won for the stable at Melton.
That helped soften the blow of Border Control being outstayed by Victorian two-year-old Guaranteed in a thrilling A$100,000 Vicbred Sires Final at Melton, in a race where northerner Major Star finished fourth.
So that left O Baby's win as the highlight of Purdon's weekend but the filly's owners are certain to be wishing it had come a few weeks earlier.
O Baby is locked in a battle with her stablemate Twist And Twirl for the title of NZ Pacing filly of the year.
The pair each have two group one wins at home this season but with Twist And Twirl's being more dominant and her Northern Oaks win coming in national record time, she may just be shading O Baby for the title, which will be announced on July 28.
The clash between the pair might have changed the minds of a few voters had they been able to factor in Saturday night's third group one victory but voting for the awards closed last Monday so it won't count.
Which could be a blow for O Baby's owners Braeden and Caroline Whitelock, the parents of the four Whitelock brothers who play for the Crusaders.
The Whitelocks are building one of the country's most commercial broodmare bands and a Filly of the Year title would be enormously desirable.
While O Baby's season is all but over Best Deal Yet will contest the Queensland Derby on Saturday week, along with exciting stablemate Didjamakem Bolt, who missed last Friday's race with a minor virus.
Rasmussen, who was not overly fussed on race driving when she moved to New Zealand to be with Purdon, has now driven five feature race winners in two months, including O Baby at the Jewels.
In a fortnight Purdon's Queensland team will head for a spelling paddock in the sunshine state but he still has some big money goals in Victoria.
Twist And Twirl should start favourite in this Friday's Australian Oaks at Melton while Cyclone U Bolt will dominate betting on Sunday's Victoria Trotting Derby at Maryborough.
And Fly Like An Eagle and Border Control remain favourites for their respective divisions of the Australasian Breeders Crown, which culminates at Melton on August 19.
Border Control was surprisingly beaten in the Vicbred Final, after managing to work to the lead with 1300m to run.
But while that should have been enough to get him home, Guaranteed sat parked for the last lap and wore him down for a neck victory in a classic transtasman battle.
That came after Border Control had beaten Guaranteed in both their heat and semifinal but the good news is the Victorian colt is not eligible for the Breeders Crown, making the Kiwi the pre-series favourite.
He will be joined in that division by Franco Nelson, who remained unbeaten with a slashing comeback at Timaru yesterday.
The Welcome Stakes winner paced his last 800m in 56.2 seconds even after running wide on the home bend and heads to a heat of the ABC at Rangiora on Sunday.
BRILLIANT BABY
* Kiwi pacing filly O Baby wins the A$75,000 Queensland Oaks.
* But it may have come too late to secure her the Filly of the Year title.
* Trainer Mark Purdon is set to dominate the Victorian winter features.
* Franco Nelson remains unbeaten and heads to a Breeders Crown heat on Sunday.