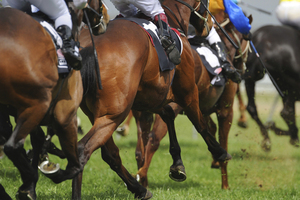 British galloper Frankel, the best racehorse in the world and one of the most exciting there has ever been, returns to action on Sunday (NZT).
When he steps on to the Newbury turf, it will be an extraordinary moment and not just because the spectators will have the unusual experience of looking at an animal who is more valuable than the grandstand.
A horse of Frankel's ability is supposed to be at stud by now, earning a healthy income of, say, £50,000 ($103,500) per mare covered at an annual rate of more than 100 mares each year. Sending him back to the track for another summer is a purely sporting decision by his owner, Khalid Abdullah, because this is a horse whose reputation and value are all but unimprovable.
Bloodstock agents, asked by the Guardian to assess Frankel's worth before his most recent race in October, came up with a figure of £100 million. For that to go up, he would probably have to prove his ability as a sire, which cannot happen until his sons and daughters hit the track in four years time.
Wonderhorse is frequently bandied about in the spring of every flat season, usually in relation to some callow 3-year-old who is sure to let his supporters down at some point. Frankel gives the term renewed potency because, in his case, its use is not appropriately answered by a cynical smirk. His is the talent in which even the most hard-hearted hack is prepared to believe.
Even so, a cool, clear-eyed assessment is expected from the analysts at Timeform, the respected publishing firm that has been rating racehorses for almost 70 years. "Everybody here, old and young, believe he's the best we've ever seen," says Jamie Lynch, their chief correspondent.
That, however, is not quite the official position. Frankel has only the fourth-highest rating (143) in the history of Timeform and Lynch would clearly enjoy giving Frankel the biggest number yet, though he insists he is "not just going to do that, willy-nilly".
After the Lockinge, Frankel will go to Royal Ascot for the Queen Anne, or the Prince of Wales if it is decided he is ready to step up from a mile to a mile and a quarter (2000m).
His most likely races thereafter are the Eclipse at Sandown in July, York's International in August, which Abdullah sponsors, and the Champion Stakes at Ascot in October.
Frankel's trainer Sir Henry Cecil reports the horse sailed through his last serious pre-Lockinge gallop last Sunday.